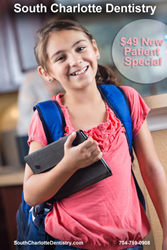 We are doing everything we can to promote early dental care. This back to school special offers real savings for families. - Dr. Wells
Charlotte, NC (PRWEB) August 26, 2014
In Charlotte and around the country, kids are going back to school. South Charlotte Dentistry, located in Ballantyne, NC is offering a new patient special for $49 to help parents get their kids ready for the school year. "It's a busy time for parents, and we want to make it easier for them to bring their school aged children in for a checkup" explains Dr. James Wells, DDS.
Back to school is a busy time for parents and students alike. And making sure a child is healthy at the beginning of a school year can be a good habit to start. Booster shots along with hearing and vision exams are common, but don't overlook the need for a dental checkup. "Parents can really save money if dental problems are found early," says Dr. Wells.
According to the American Dental Association, more than one-half of all children aged 5-9 have at least one cavity or filling. "Cavities can be painful and often children don't voice their problems," says Dr. Wells, "That's why it's so important for kids to get regular checkups." It is an ideal time to get a checkup in order to prevent kids missing school because of dental problems.
South Charlotte Dentistry is offering new patients a comprehensive exam and full x-rays for $49. Routine and regular dental checkups find problems in the early stages when the damage is minimal and the treatment less invasive. When dental problems are caught early, it can prevent chronic, painful conditions and save the patient money in the long run. "We are offering x-rays in this special because x-rays allow us to spot hidden concerns like developing tooth decay," says Dr. Wells. Again, finding trouble spots early will help ease the pain later and protect the wallet from costly solutions.
After the x-rays, Dr. Wells or one of his dental assistants will educate patients on proper homecare like brushing and flossing. "We make it fun for our patients, especially the kids. We want them to an active role in taking care of their teeth," says Dr. Wells. Also, the more a child visits the dentist, the less likely the child is to develop a dental phobia or anxiety. According to an article from Fox News, children's fear of the dentist often stems from not knowing what to expect. "We encourage our patients with kids to drop by for a visit, meet the staff, and see the facility," says Dr. Wells. "We like to keep the environment fun and laid back."
South Charlotte Dentistry offers their patients personal video glasses which allow patients to watch TV or a movie during the exam. They also offer free Wi-Fi, so their patients can surf the internet, stream music, or read emails. South Charlotte Dentistry is a family practice that also offers cosmetic dentistry services. The new patient special is available for all new patients including adults. For more information about their services or facilities, visit their website at http://www.southcharlottedentistry.com or call them at 704-759-0908. They serve the Charlotte, Ballantyne, Matthews, Pineville, Weddington, and Indian Trail communities.