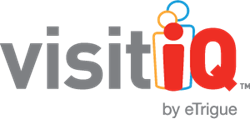 The visibility into the interactions on our website, together with the simple approach to identifying prospects using our existing email system makes focusing our sales effort really easy.
San Jose, Calif. (PRWEB) August 26, 2014
eTrigue® Corporation (http://www.visitiq.com), launched VisitIQ™, marketing software that adds intelligence to everyday email by identifying and connecting the actions of anonymous web visitors to individual digital biographies of known prospects with real-time information. VisitIQ is a new approach to email marketing and web analytics tailored specifically for small businesses – the fastest-growing and largest segment of today's economy.
Leveraging the email marketing platforms they are using today, marketers can add VisitIQ-generated intelligent links to their email messages to automatically tie web activity to the individual prospect: page visits, duration on each page, document downloads, Google AdWords response, and webinar attendance. VisitIQ helps marketers target prospects more effectively by creating meaningful digital biographies of individual prospects. Real-time email alerts help sales by notifying them of specific website visitors so they can focus their time on active opportunities to close more sales faster.
"Clicks and opens are no longer enough," said Andrew Gaffney, editor of Demand Gen Report, "Companies need to know who's returning to their website between email campaigns by adding this intelligence to the existing email tools marketers are using today."
A 30-day free trial of VisitIQ is available by using coupon code 30daysfree at the VisitIQ subscription page.
Key features of VisitIQ include:
Anonymous Visitor Tracking: Most website traffic is anonymous. VisitIQ identifies companies, geographies, and records every visitor's individual web activity from their first visit to your web site. Once a visitor clicks on an VisitIQ email link, their anonymous visit history is automatically appended to their personal contact information. Every time a contact returns to the site, tracking resumes, even if they visit your website from something other than an email. Anonymous visitor lookup provides tells you where they came from; referring URL, search terms used, and the company name, city, state, postal code and area code associated with the location of a prospect.
Prospect Activity Tracking: Once a VisitIQ link is clicked in an email, prospect activity tracking lets you listen to your prospect's actions by monitoring web page views, time on page, webinar participation, Google AdWords clicks, and more. You'll have visibility into who's on your web site, for how long and see how often they return.
Real-Time Lead Alerts: Real-time Lead Alerts deliver a detailed prospect snapshot via email to sale personnel or any user so you'll know when your company is top-of-mind based on the prospect's activity on your site. Know what pages a visitor viewed, asset downloads and get a view of their entire history.
Google AdWords and Search Terms: Google AdWords tracking provides insight into which AdWords clicks result in qualified leads, opportunities, and new customers. As a result, marketers can identify and adjust AdWords bids to improve results and optimize spend.
Webinar Marketing: VisitIQ includes the ability to synchronize event data with the two most popular webcast providers: WebEx and GoToWebinar. Registration information and timed attendance data are now automatically added to the appropriate prospect record.
"The visibility into the interactions on our website, together with the simple approach to identifying prospects using our existing email system makes focusing our sales effort really easy," said Jeff Elias, CEO at Toltec Global Services. "We're seeing much more actionable information about our individual site visitors, and the organizations they work for. Now we're able to identify prospects through simple IQ links in our existing email system, and we alert sales when the time is right based on visitors returning."
"Until now, this kind of visibility into known and unknown prospect activity wasn't available in a simple and affordable package for SMB organizations" said Jim Meyer, vice president and general manager of eTrigue. "VisitIQ is extremely simple to set up, and provides valuable sales intelligence on your website visitors immediately."
About eTrigue Corporation
eTrigue is a leading provider of marketing SaaS products that accelerate the way marketing and sales teams generate qualified leads and close sales. The eTrigue DemandCenter marketing automation platform is consistently rated as easiest to use. eTrigue products helps marketers build more successful demand generation programs that give sales and marketing teams the real-time sales intelligence they need to identify, prioritize and effectively interact with prospective customers. For more information please visit http://www.visitIQ.com or http://www.etrigue.com or call 1-800-858-8500.
VisitIQ, eTrigue, and other marks are trademarks and/or registered trademarks of eTrigue Corp. All other trademarks are the property of their respective owners.