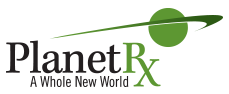 Lakeland, FL (PRWEB) August 26, 2014
Today PlanetRx, the consumer-focused healthcare website that was re-launched with new ownership in 2013, announced the initiation of an affiliate program designed ultimately to improve the lives of PlanetRx stakeholders – including the consumer and the affiliate marketers themselves.
"PlanetRx is new, so it is important to bring a new approach to the affiliate program that is better than ever," said Will Palmes, Affiliate Network Manager.
The affiliate program will be managed through Chicago based affiliate marketing company ShareASale.com. The affiliate networker connects PlanetRx with internet marketers who use their own websites, blogs, web campaigns, email, and other approaches to inform consumers about PlanetRx products and services.
"ShareASale has a reputable network of affiliate marketers that directly interact with consumers to make them aware of deals and products on PlanetRx. A good reputation is important to PlanetRx as it moves forward in the healthcare e-commerce space," said Palmes.
Since the re-launch of PlanetRx in 2013, the website has consistently demonstrated improved customer satisfaction ratings with timely order fulfillment and increased offerings aimed at improving customers' healthy lifestyles. The over-the-counter e-commerce website strives to engage customers in healthier living by providing the products they need to make healthy choices. The company shifted the focus of the business practices to the individual, so that each customer was content with the entire process.
Affiliate marketers will help promote healthy lifestyles, healthcare products, and a sustained focus on good business practices by PlanetRx to focus on the individual. The affiliates have an important role in marketing the brand and face of PlanetRx to internet community. Building meaning relationships with the affiliates and with the end consumer is a strategic goal of PlanetRx – a goal worth celebrating.
About PlanetRx
PlanetRx is an e-commerce website dedicated to helping consumers lead healthier, fuller lives by providing a wide range of high quality, over-the-counter healthcare products. By aiming to enrich our customers' lives in fundamental ways our team is committed to serving our customers and promoting healthy living and social and corporate responsibility. To learn more please visit http://www.PlanetRx.com.