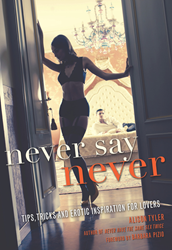 "An impressive overview of diverse approaches to spicing up one's sex life." —Library Journal
(PRWEB) August 26, 2014
Alison Tyler is a prolific writer and editor. One of her most recent books, Never Say Never: Tips, Tricks and Erotic Inspiration for Lovers, is full of advice on how to make sure monogamy never has to equal monotony. She recently shared tips with Women's Health magazine on "5 Ways to Have Hot Vacation Sex Without Leaving Home."
Tyler's suggestions include doing the prep work. "Before jet-setting off on a couple's retreat, you usually get your hair done, nails painted, and legs waxed—all in the name of feeling irresistible. For a staycation, you should re-create these get-ready rituals. Pamper yourself from the feet up! This way, you'll happily welcome an impromptu romp." She also suggests bringing the beach to the bedroom by "Sliding into a little bikini, having your man oil you up with scented tropical lotion, putting on surfer music, and mixing frozen margaritas."
ALISON TYLER has made being naughty a full-time job. Her sultry short stories appear in more than 100 anthologies, and she is a prolific editor of bestselling erotic anthologies, including Frenzy, which was a bestselling audiobook for Audible for two years in a row. Her most recent novel is Wrapped Around Your Finger, the sequel to her bestselling Dark Secret Love and The Delicious Torment. Find her at alisontyler.com.