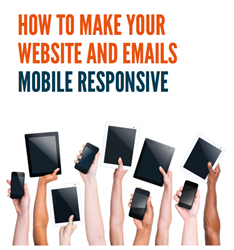 Nonprofits who have made it fast and easy for online donors to give are receiving up to 20% of their donations via mobile devices.
Austin, Texas (PRWEB) August 26, 2014
Online donors (often the highest lifetime-value donors) expect nonprofit websites to be just as mobile responsive as the ecommerce sites they use. Nonprofits who have made it fast and easy for online donors to give are receiving up to 20% of their donations via mobile devices. But with the proliferation of so many different smartphones and tablets, how does a nonprofit know if they are mobile responsive, and if they are not? How do they go about achieving this goal? To help nonprofits answer these questions, today Kimbia announces a new, free eBook: How to Make Your Website and Emails Mobile Responsive.
According to Morgan Stanley, 91% of all US citizens have a mobile device (smartphones, tablets, etc.) within reach 24/7, and, according to comScore, mobile technology will be the number one method of accessing the Internet in 2014. This means that nonprofit supporters expect that emails, websites, calls-to-action and, yes, donation forms, all adapt to their screens.
Responsive design is the key to a consistent user experience for supporters across all devices and other online channels such as social media and corporate partner websites. With responsive design, one URL or email works seamlessly for desktops, laptops, tablets and smartphones.
However, advanced coding skills are not necessary to implement responsive design. In fact, most responsive design tools, many of which are covered in the eBook, require little to no coding at all. In addition to including a 15-point self-assessment checklist to determine just how mobile friendly their site is, it highlights some of the best tools for implementing responsive design. The eBook also covers:

Responsive Design Concepts. How responsive content adapts to the many different displays that exist today.
Three reasons to go responsive. How it's easier now than ever before to adopt responsive design, but it's also more important than ever to go responsive. For nonprofits in particular, website and email mobile responsiveness directly impact the online donor experience.
Best practices to improve donor experience. How key design and testing practices make responsive design most effective.
The eBook can be downloaded here.
About Kimbia
Our flexible, best-of-breed, online fundraising platform enables you to create a deeper donor relationship by leveraging the strengths of each channel and putting your donors at the center of all development activities. Ultimately this approach results in greater brand awareness, giving and lifelong loyalty. Kimbia is proud to support more than 5,000 customers to date, including the American Heart Association, Smithsonian Institution, YMCA of Metropolitan Dallas, Columbia University, Georgetown University, WGBH – Boston, KCSM – San Mateo, The Ragnar Relay Series, Beijing International Triathlon, Communities Foundation of Texas, Community Foundation for Greater New Haven and The Boston Foundation. For more information, visit http://www.kimbia.com.