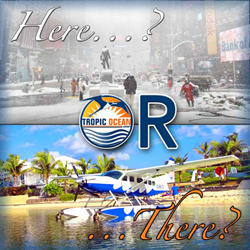 We want to thank our guests that experience our unconventional way to fly by offering them discounted travel to the warm waters of the Bahamas or the Florida Keys. -- Ryan Custureri, General Manager
New York, New York (PRWEB) August 26, 2014
The summer season is coming to a close, but New Yorkers will get one more opportunity to continue enjoying warm weather. Tropic Ocean Airways, a premiere seaplane company owned and operated by military veterans, is extending one more seasonal "Splash Promotion" to their guests in the New York area. Any guest who books and flies a private charter from New York City to the Hamptons, or elsewhere, before September 15, 2014 will receive a 10% discount on the flight and an additional 10% off voucher for any flight from Miami or Fort Lauderdale to the Bahamas or the Florida Keys. "We understand when winter in The City arrives that many "snow birds" escape the cold weather and come to South Florida. We want to thank our guests that experience our unconventional way to fly by offering them discounted travel to the warm waters of the Bahamas or the Florida Keys," said Ryan Custureri, Tropic's General Manager.
The company expressed their excitement for travelers to save hundreds of dollars on private charters and a chance to escape the winter season. According to Tropic, over 15 percent of their travelers are frequent fliers with residences in New York and The Hamptons. New York is an energetic, high-tempo, and great place to live; however, getting away from the winter weather is a necessity for many travelers to Florida each year. "Last winter was one of the coldest on record and next winter is projected to be even worse" said Rob Ceravolo, CEO of Tropic. "Well…last January when the northeast was in a freeze I was scuba diving with hammerhead sharks in the Bahamas. Our seaplanes fly year-round down here thanks to the great weather!"
Tropic will depart New York at the end of September and relocate their executive seaplane back to Fort Lauderdale to meet its high demand for seaplane transportation throughout the Florida Keys and the Bahamas. However, before they leave, New Yorkers will get one more chance to enjoy the excitement and convenience of seaplane flying while taking advantage of the Splash Promotion. The airline returns to the New York area in May 2015.
To take advantage of this opportunity and to find out more information about Tropic and their promotion, travelers can contact their sales department at 1-800-767-0897, and by email at reservations(at)flytropic(dot)com. A dedicated and trained sales representative will greet you and help you plan your travel itinerary.
Founded in 2009, by a US NAVY TOPGUN pilot, Tropic Ocean Airways is South Florida's premiere seaplane company. Tropic offers an unparalleled flight experience. The company travels to many remote destinations in the Bahamas catering to the private residences of celebrities, international corporations, and homeowners that are in search of luxury, style, and solitude. They also provide yacht provisioning to bring crew, supplies, and air ambulance flights saving time, money, and resources for boat operators and their guests in Sag Harbor, New York, and to remote destinations.