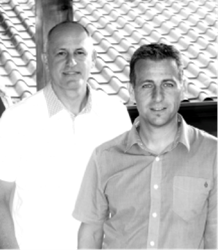 Costa Rica (PRWEB) August 27, 2014
The Haute Living Real Estate Network (HLRN) of HauteResidence.com is proud to recognize Daveed Hollander and John Wieland as prominent real estate professionals in Costa Rica. HLRN unites a distinguished collective of leading real estate agents and brokers, highlighting the most extravagant properties in leading markets around the globe for affluent buyers, sellers, and real estate enthusiasts.
About Haute Living Real Estate Network (HLRN):
Haute Living Real Estate Network (HLRN) of HauteResidence.com offers readers the most prominent directory of experienced realtors, brokers and luxury listings, and HLRN has grown to be the number one source for real estate news, residential developments, celebrity real estate news and more. Seeking an experienced interior designer? Hauteresidence.com is also home to Haute Design Network (HDN), a collective of celebrated interior designers that will help you decorate your new home or stage an active listing. Access all of this information and more by visiting: http://www.hauteresidence.com.
About Daveed Hollander and John Wieland:
With over 15 years' experience in the Costa Rican real estate industry, Daveed's reputation for providing a professional and tailored service precedes him. Specializing in, but not limited to commercial and exclusive luxury real estate, he is known for his excellent communication skills—specifically his responsive and honest personality—key characteristics that have ensured he is one of the leading realtors in Costa Rica.
Born and raised in Redwood City, California, Daveed graduated from the University of CA, Santa Cruz before setting his sights further afield. After a series of trips to Costa Rica he quickly identified the areas potential and so his successful career in real estate ensued.
Since then Daveed has acquired a wealth of knowledge—demonstrating his exceptional ability in his field. He also has a profound appreciation for the area he serves. Daveed has made the South Pacific of Costa Rica his home and resides in the beautiful coastal town of Dominical with his family. He is a respected and active participant in the local community.
Receiving numerous recognitions for his work in the property market Daveed has impeccable credentials - his most notable achievements include becoming the Master Franchise holder for Costa Rica. He is also a member of the Costa Rican Global Associations of Realtors and the U.S. based National Association of Realtors.
Working alongside Daveed, John Wieland first came to Costa Rica in 1999 and in 2002 began acquiring land for his personal portfolio, before eventually relocating permanently to the South Pacific town of Dominical. With a background in property investment, John was a licensed Realtor in California and, just like Daveed, quickly recognized the potential in the Costa Rica. He became a partner of Coldwell Banker Dominical and played a pivotal role in the creation and execution of the business plan which would result in the opening of five Vesta Group real estate offices throughout the southern zone. John also became president of the Master Franchise of Costa Rica where he has been involved in the oversight and growth of the Coldwell Banker brand which has expanded from two to nine locations.
A visionary and consummate professional, John saw the benefit of starting an alliance amongst other brokerages and in 2008, launched Southern Pacific Alliance of Realtors (SPAR). This effort has ensured access to a vast portfolio of quality properties. Daveed and John are at the forefront of the leading real estate broker Coldwell Banker Vesta Group Dominical for Costa Rica. Sharing a deep commitment to serve their clients by ensuring the provision of a detailed orientated service, their in-depth knowledge of Costa Rican law and finances adds to their real estate capabilities. Daveed and John listings can be found on http://www.dominicalrealty.com —from a secluded beachfront tropical estate to a luxury penthouse nestled in the foothills—this is an extensive portfolio that is testament to Daveed and John's passion for real estate and delivering only the best to their clients.
To learn more, visit Daveed Hollander and John Wieland's Haute Residence profile.