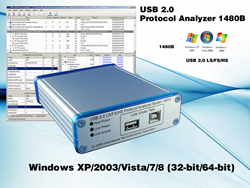 high-speed serial protocol analyzers that individual engineers can afford
Irvine, CA (PRWEB) August 27, 2014
International Test Instruments Corporation (ITIC), based in Irvine, CA, is seeking startup funds from other sources than the traditional angel- and venture-capital investors. ITIC, who designs, manufactures and sells advanced, high-speed protocol analyzers used for analyzing modern high-speed gigabit serial bus links such as PCI Express, USB, SATA and SAS, instead turns to the Kickstarter crowdfunding platform.
According to John Gulbrandsen, founder and chief engineer, ITIC is able to price its existing USB and PCI Express protocol analyzers approximately 30% lower than competing units from other vendors, mainly because the company has been bootstrapped over the last 9 years and, therefore, doesn't have liabilities in the form of 3rd party investors. This keeps the overhead to an absolute minimum and greatly reduces end-user prices. By turning to the Kickstarter crowdfunding platform, ITIC can continue to grow and produce advanced high-speed serial protocol analyzers that individual engineers can afford, without diluting ownership and increasing end-user prices.
Mr Gulbrandsen, who has a formal degree in Digital Electronics Engineering and more than 20 years of professional electronics design and software engineering experience, says that the Kickstarter campaign, specifically, is intended to fund development of a more advanced version of the company's existing model 1480A USB 2.0 LS/FS/HS Protocol Analyzer. "The 1480A USB Protocol Analyzer, which complies with the USB 2.0 and OTG 1.3 specifications, has a price 30% lower than any competing unit," Mr Gulbrandsen explains, "but unfortunately, this also makes our product development cycles longer". "By turning to the engineering community via the Kickstarter crowdfunding platform, we hope to raise sufficient capital to be able to offer both the lowest price as well as the most capabilities in our new, much more advanced model 1480B USB 2.0 Protocol Analyzer."
The ITIC 1480B USB 2.0 LS/FS/HS protocol analyzer Kickstarter campain is currently active and will end in 45 days, on October 9th, 2014. http://www.kickstarter.com/projects/itic/professional-usb-20-ls-fs-hs-protocol-analyzer-mod
International Test Instruments can be reached on the web at http://www.internationaltestinstruments.com/products/97-1480a-usb-20-protocol-analyzer.aspx.
About USB
Today there are over 10 billion devices that communicate via USB. USB is a high-speed serial bus communications technology intended for communication over small distances, typically feet or meters.
Unlike standard RS-232 serial communication, USB data cannot be captured via an oscilloscope. The data is encoded on the link so more advanced electronics is needed to capture and decode it. Furthermore, high-speed electronics is needed to capture the data from the very high-speed serial links. USB protocol analyzers are used for this purpose. In addition to capturing and decoding the data, a USB protocol analyzer also interprets and intelligently presents the data on a higher level, which makes it easier to analyze the large amount of complex packets and bus events captured.