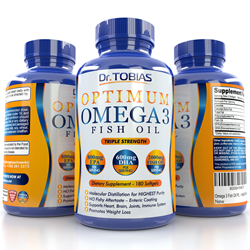 Participants with normal cognition who took fish oil supplements demonstrated less brain shrinkage in key neurological areas, compared to those who did not use the supplements.
Trittau, Schleswig-Holstein (PRWEB) August 27, 2014
Regular use of fish oil supplements (FOS) can lead to a significant reduction in cognitive decline and brain atrophy in older adults, according to a new study.
In the retrospective study researchers at Rhode Island Hospital, Providence, Rhode Island, examined the relationship between the consumption of fish oils and indicators of cognitive decline in more than 800 older patients. The group, participating in the Alzheimer's Disease Neuroimaging Initiative (ADNI), included 229 older adults who were cognitively normal; 397 who were diagnosed with mild cognitive impairment; and 193 with Alzheimer's Disease (AD). Every six months they were all assessed with neuropsychological tests and brain magnetic resonance imaging (MRI).
The study which appeared in the publication Alzheimer's & Dementia found that the use of fish oil supplements was associated with significantly lower rates of cognitive decline as measured by the Alzheimer's Disease Assessment Scale (ADAS-cog), and the Mini Mental State Exam (MMSE).
Of particular note was the fact that the participants with normal cognition who took fish oil supplements demonstrated less brain shrinkage in key neurological areas, compared to those who did not use the supplements.
Principal investigator Lori Daiello, PharmD, of the Alzheimer's Disease and Memory Disorders Center at Rhode Island Hospital, said, "More research is needed, but these findings are promising and highlight the need for future studies to expand the current knowledge of the effects of FOS use on cognitive aging and AD."
More than 5 million Americans suffer from Alzheimer's disease, the most common form of dementia and the sixth leading cause of death in the U.S.
There are many fish oil supplements in the market, so which one should you choose? One recommended supplement which has received high ratings in research carried out by independent laboratory, LabDoor, is Dr. Tobias Optimum Omega 3 Fish Oil.
Commenting on the brain study, Dr. Tobias Ihde, CEO and president of DTI UG, developers of the Optimum Omega 3 Fish Oil, said, "At least one person is diagnosed every minute with Alzheimer's disease (AD) so this new Rhode Island research is extremely valuable and adds to the mounting evidence supporting omega-3 supplementation for brain health. Omega-3s should be an essential part of everyone's daily diet."
Optimum Omega 3, which is made from best quality coldwater fish, beat many competitors, in the LabDoor study, including products made by national nutritional chains.
Optimum Omega 3 contains three to five times more DHA and eicosapentaenoic acid (EPA) than most other brands in the market. It is purified through one of the most sophisticated molecular distillation processes available and also enteric coated so there's no fishy aftertaste, while there is optimal absorption.
Dr. Ihde developed his product after discovering that fish oil helped his back and joint pain. He felt that the dosage of existing products was too low and he had concerns about their quality.
In addition to benefits for brain health, numerous studies have shown that Omega 3 fish oil supplements are also essential for the health of the heart skin and hair. Benefits have also been seen for the joints, eyes and immune system.
Dr. Ihde provides free health and activity videos "since diet and activity are two sides of the same coin."
For more information visit: Dr. Tobias' website.
About DTI UG
DTI UG is a company that's setting new standards in the premium food supplement market. Its hallmark product Dr. Tobias Optimum Omega 3 Fish Oil has been rated as one of the best quality products of its kind in the U.S. by trusted independent laboratory LabDoor.
DTI UG is dedicated to supporting its customers' health and happiness in today's fast-paced world. CEO and President Dr. Tobias Ihde has a background in Sports Science and Sports and Medicine research and a doctorate in economics.