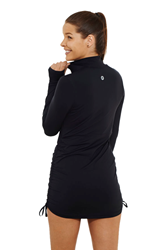 BLOQUV's cover-ups offer superb sun protection and style for the beach and pool.
San Francisco, California (PRWEB) August 26, 2014
SolEscapes' line of resort and beach ready apparel has been enhanced by versatile and fashionable cover-up swim dresses made by BLOQUV. These swim cover-ups fit well in SolEscapes offering of high quality, stylish products, with a focus on sun protection for beach vacations, tropical cruises and luxury resorts.
The sun dresses by BLOQUV combine practicality and style in a comfortable, well-made package. The fabric is rated 50+ UPF, meaning it blocks 98% of the sun's harmful rays. Extra-long sleeves ensure that the sensitive skin on the backs of the hands is well covered. Similarly, a collar protects the back of the neck, while the opening at the neck can be zipped up to completely cover the chest and neck. Unlike most swimsuit cover-ups, these are designed to be worn in and out of the water. They can be worn over a swimsuit, while playing at the beach and left on when it's time to dive in.
BLOQUV's cover-ups offer superb sun protection, as well as good looks; they're stylish, with a sporty, sleek vibe. The zip neck looks great whether zipped fully up or zipped down for a playful look. At the hem, each side has a drawstring, allowing the length of the cover-up to be adjusted. When pulled tight, it's at shirt length with attractive ruching and can be worn with the swimsuit bottom visible. When the strings are let out, a dress or tunic length is achieved, offering full coverage for the derriere. SolEscapes offers BLOQUV's cover-up swim dresses in three easy-to-coordinate colors: black, white, and blue.
These cover-up dresses offer excellent sun protection, shielding the neck, chest, shoulders, and back from potential sun damage. To protect the head and face as well, a sun hat should also be worn. SolEscapes has an excellent selection of stylish sun hats. Also important are chic sunglasses to shield the eyes, as well as a broad-spectrum sunblock product such as COOLA to cover exposed skin. A full complement of fashionable sun protection products means a day in the sun will be fun, as well as stylish.
SolEscapes is a California-based online boutique offering a unique selection of stylish and practical sun, beach, and resort essentials for all warm weather needs. SolEscapes offers personalized service, high quality products and fast, affordable shipping. Merchandise, including all beach hats, is carefully and beautifully packaged to ensure a perfect arrival. For more information, please visit SolEscapes.com. You can also connect with SolEscapes on Facebook, Instagram, Twitter, and Pinterest.