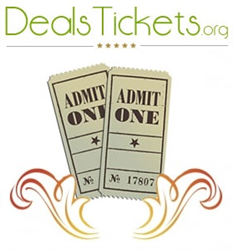 Let Military.DealsTickets.org take you out to the ball game! (Peanuts and Cracker Jacks not included)
Chicago, IL (PRWEB) August 26, 2014
Those currently serving our county or veterans looking for discount military sports tickets won't find a better price than free. No fees, no charges, just 100% no cost tickets to say thank you to those who keep us safe. Even better, the complimentary tickets offer provides an introduction to both a site for savings on all sports, concert, and theater tickets, plus an agency helping military personnel and seniors to achieve affordable home ownership.
Getting military discounts on sports tickets, concerts, and theater tickets from Military.DealsTickets.org stands as the easiest way for veterans and those currently serving in any of the armed services to save money. Available tickets include all NFL, NBA, NHL, and MLB games, as well as special events like the NASCAR races or the US Open tennis championship. Popular concerts selling now feature acts like Eagles concerts, Garth Brooks Chicago or Atlanta, Luke Bryan, Jason Aldean and Cher. By using the coupon code MIL5M1 at Military.DealsTickets.org, soldiers and their families get an instant additional 5% discount when they place an online order. Tickets from the site come from the secondary resale market, like Stub Hub and similar sites, often offering the exact same seats. But in a same seat comparison, not one of the 25 competitor sites reviewed beat the prices offered by Military.DealsTickets.org. The site will serve users best when they want tickets for sold out events or premium seats like floor tickets. Specific events with discount military tickets include pro sports, concerts or Broadway Shows. New pages feature special events with reduced prices like cheap Chicago concert tickets with similar sites in other major cities.
Nearly a million vets return home in the next year. Local veterans, active military personnel and their families face everyday challenges like affordable housing, jobs, job training, grants and much more. Restoration America dedicates itself to providing homes for Veterans and Active Military Personnel with properties priced well below market/appraisal value and $10,000 in down payment grants. Houses require no closing or attorney fees. This means instant equity when with every transaction. Find similar home purchase programs for seniors from Restoration America and many other general veteran's assistance programs as well.
Visit Military.DealsTickets.org for both details on the free veterans and military tickets plus instructions on discounts for all pro sports, concerts, and Broadway theater. On top of saving money over other resale sites, a donation will be made to Restoration America with each purchase to help them help veterans and military personnel. Find sites to shop or book hotels online with military discounts and rebate savings plus more donations to Restoration America too.
About Financial Firebird Corporation and Restoration America:
Financial Firebird Corporation provides unbiased consumer information, software, and marketing services for the mortgage, debt relief, foreclosure, auto lending, and other financial, travel or real estate related industries, as well as basic marketing, financial, and website services for all companies. Established in 2000 and a proud BBB member. Programs similar to this one designed for the military may be programmed for other charities or organizations for either discounts, donations or member benefits. Call Financial Firebird Corporation for more information.
Restoration America helps our heroes access the resources they deserve, including housing, budget, and work training services. In addition to veteran and military programs, Restoration America aids senior citizens and individuals with foreclosure problems.