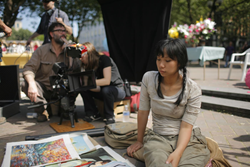 (PRWEB) August 26, 2014
Director-producer-actress and stunt woman Livi Zheng may only be 25 years old, but the multi-talented, multi-hyphenate filmmaker already fills a unique position in Hollywood no one else occupies – a skilled, experienced stunt woman and actress who writes, directs, produces and stars in her own action films.
Zheng's recently completed production of her second feature film. This action thriller stars Keith David, John Savage, Tony Todd, Ken Zheng, Madeline Zima, and Sean Patrick Flannery. Her directing debut, the upcoming martial arts thriller, Brush with Danger, is set for its U.S. theatrical release with a world premiere at New York City on September 19, 2014 at the Cinema Village Theatre. The Official Trailer of Brush with Danger can be viewed at https://www.youtube.com/watch?v=rmIs8VzD4h4
Brush with Danger attracted a professional, award-winning production team who recognized the young auteur's determination and talent and wanted to be part of her success. Livi's team members include several Oscar nominees and Emmy Award recipients. The original score of Brush with Danger was composed by Garry Schyman, whose many works include the score for the video game Bioshock which sold over 4 million copies worldwide.
Livi was born in a small mountain town in East Java with no shopping malls or movie theaters. She moved to Jakarta when she was four, then Beijing, China for high-school. Livi attended the University of Washington in Seattle, where she earned her bachelor's degree in economics and was inducted into the International Economics Honor Society. Livi says mergers and acquisitions was her favorite area of study and finds similarities between creating companies and movies. "It's a collaborative, cooperative process where you work with others to create an entity that becomes something larger and different, a separate thing," said Zheng. "There's variety, it's always different and there's a sense of completion. That's very similar to filmmaking."
Livi is not only a filmmaker and entrepreneur, she is also a prominent martial artist. During college, she won more than 25 medals and trophies for regional as well as national Karate competitions throughout the United States. 
Livi often comes in a package with her little brother Ken Zheng who starred in both of her films. Ken is a two-time Indonesian national kickboxing champion, and the youngest kickboxing champion in Indonesia's history. He is a member of the Indonesian National Kick-Boxing team and an actor.
Watch out for the brother sister duo and be sure to watch Brush with Danger in theaters near you starting this September.
http://www.BrushwithDanger.com
http://www.facebook.com/brushwithdanger
http://www.twitter.com/brushwithdanger