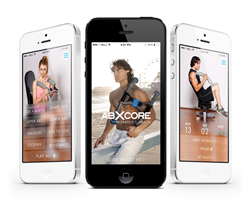 ABXCORE is specially designed to isolate each abdominal muscle, maximizing strength and definition while minimizing the risk of injuries common in traditional sit-ups.
Los Angeles, CA (PRWEB) August 26, 2014
Mobile apps are quickly taking the place of DVD exercise programs and ultra functionality is on the horizon with the ability to measure speed, movement and strength through the accelerometer in smartphones. ABXCORE is pioneering this state-of-the-art technology with its body sculpting device and personal training program by introducing a mobile app for abs with multiple features to develop core strength and analyze fitness progress. The smart abs device is being offered at discounted pricing for early adopters through its Indiegogo crowdfunding campaign launching this week.
ABXCORE, an ergonomically designed portable exercise device utilizing resistance technology for targeted core workouts, enables users to attach their smartphone and access their personal training app right on the equipment for fitness monitoring. "People are not wanting to deal with DVDs for exercise programs anymore when they have their mobile device everywhere they go," states ABXCORE creator, Omar Attalah. "Even though our abdominal workout device is already unique to anything else out there, we couldn't overlook technology advancements in mobile devices- it is crazy what an app can do to enhance a product."
App features for the ABXCORE device will utilize the phone's accelerometer to analyze workouts and incorporate the ability to count repetitions, sets and resting times with sensors to enable BMI and heart rate calculation, as well as measure strength and range of motion. Next-gen versions will also feature multiple full-body ABXCORE workout routines with added training programs, monitoring, and the ability to calculate body age. The heart rate and body fat sensors, using bioelectrical impedance for a more accurate result, will be located in the handles of the device and sync via Bluetooth to the smartphone. It is the only app to provide both health measurement (heart rate, blood pressure) and fitness measurement (BMI, body fat, strength, range of motion) as well as track workout progress and function as a mobile personal training partner.
The free abs app features tutorials and exercise programs for different fitness levels from beginner to advanced with a choice of varying desired results, such as lean, tone or athletic body types. Personal information and goals are input into the app and by interfacing with the phone's calendar, users can receive progress reports, workout reminders, push notifications and the ability to track completed workouts.
Compact and weighing in at only four lbs., the patent-pending ABXCORE body-sculpting device is designed for lightweight use on the go. Its resistance technology enables a completely new way to exercise targeted core muscles by controlling and guiding the user's movement and measuring weakness areas to help avoid injuries. Adjustable mechanisms isolate specific muscle groups such as upper & lower abs and obliques with personalized settings for width and length to fit all body types. The device is also unique in that it can be used while seated or lying down.
A USC study on the ABXCORE device showed proven results that ABXCORE is up to 200% more efficient than a regular sit-up and that it is safe for the back and neck in a sitting and lying position. The research was conducted by E. Todd Schroeder, PhD, FACSM in the Division of Biokinesiology & Physical Therapy at the University of Southern California, and Susan Sigward PhD, PT, ATC Assistant Professor of Clinical Physical Therapy, Director, Human Performance Laboratory.
Spine and Neurosurgeon, Dr. Todd Gravori, also conducted a review of the product and commented on the safety and effectiveness, stating, "I've seen many injuries as a result of improper exercise and stress to the neck and back. ABXCORE is designed to minimize injury and maximize efficiency- its personalized settings enable core exercises to be done properly and comfortably. I would even recommend this device for physician supervised rehabilitation regimes."
Created by Omar Attalah, a professional health, wellness and fitness trainer with a clientele including celebrities and professional athletes in the U.S. and France, ABXCORE is specially designed to isolate each abdominal muscle group, maximizing strength building and definition while minimizing the risk of injuries common in traditional sit-ups. Attalah holds two Masters Degrees, specializing in athletic performance, sports injuries, rehabilitation, strength, endurance and recovery nutrition. Together with his development team of engineers, designers, an orthopedic surgeon, a chiropractor, a sport scientist, and a professional strength & conditioning coach, he created a revolutionary resistance technology product to control range of motion for abdominal exercises that works for all body types, sizes and fitness levels. For more information, please visit http://abxcore.com and Like Us on Facebook.