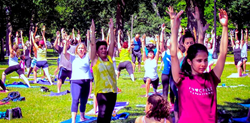 Worcester, MA (PRWEB) August 27, 2014
Begin the Fall season stress-free, stimulating the mind with enhanced awareness at Ivy Child's yoga and mindfulness community programs. Classes will be offered in their new community programs location at the Central Rock Gym (299 Barber Ave, Worcester). Signature Fall offerings include:

MINDFULNESS MASALA FOR KIDS: Weekly mindfulness classes for kids led by Ivy Child Founder and TEDx Speaker, Rose Pavlov. Classes will begin September 8th and will be held every Monday and Wednesday from 3-4pm and 4-5pm. Limited space available, pre-registration is required. Cost to attend: $450/early bird (by September 5), $525/regular.
FIRST FRIDAYS: Mindful yoga, art and healthy eating for kids and youth. Held on each first Friday of the month from 5-8pm. Classes will resume October 3rd. Pre-registration is encouraged but drop-ins are welcome. Cost to attend: $25, $15/additional child.
MINDFUL HAPPY HOUR: A healthy happy hour and cocktail of mindfulness for college students, professionals, and adults featuring yoga, mindful art, music, and juicing. Happy hour events will be held once a month at various yoga studios around Worcester. Pre-registration is required. Cost to attend: $30 or $20 for parties of 2 or more individuals.
Also continuing in the Fall will be Ivy Child's signature free Yoga in the Park program, held every Saturday from 10am-11am at University Park, Worcester. The program runs from September 13 – November 1s and is open to everyone in the community, for all ages and abilities! Class updates will be announced on the Ivy Child Yoga in the Park event page.
For more information about Ivy Child's Fall 2014 offerings, visit our website at http://www.ivychild.org/mindful-communities.
"Ivy Child's goal is to make New England a mindful region by engaging communities and creating joy and awareness towards a larger mindfulness movement - locally, nationally, and globally. Through these offerings, we aim to educate kids on the art of attention in our everyday lives and the vital role it plays in reducing stress and other challenges our communities face."
All participants are encouraged to wear comfortable clothing and to bring their own mats. Mats can also be purchased at the studio.
About Ivy Child International: (Ivy Child) is a non-profit organization working to enhance the social and emotional well-being of children worldwide by recognizing their multicultural needs, and using education rooted in positive psychology as a uniting force to inspire resilience and leadership. Ivy Child develops mindfulness-based, health education programs for children, youth, and families in hospitals, schools and community sites. Our unique curriculum features yoga, mindfulness, meditation, music and art. Learn more about SUPPORTING Ivy Child's work here.
CONTACT:
Shan Yi Koay
skoay(at)ivychild(dot)org
(985) 228 3956
http://www.ivychild.org
http://www.facebook.com/ivychild