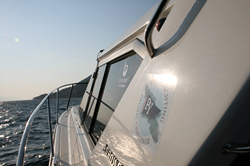 'We did stop to toast Neptune, who apparently drank an extra two gallons of fuel.' - Rob Harty, ArrowCat Vice President
Victoria Harbor, BC (PRWEB) August 27, 2014
In response to Pacific Yachting Magazines open challenge to boat manufacturers, ArrowCat Power Catamarans successfully completed the PY Pacific Challenge, a race against time around Victoria Island. The ArrowCat 30RS completed 643 miles, tracked by Spot, in 28 hours, 59 minutes, and 12 seconds on 494 gallons of fuel. ArrowCat Power Catamarans is the second manufacturer to attempt the race, but the first in the 30 foot category.
The PY Pacific Challenge places a premium on boat design, boat construction, fuel efficiency and seamanship. The ArrowCat 30RS power catamaran, powered by twin 200 hp Mercury Verado engines, flawlessly carried a crew of three: ArrowCat CEO Kim Stebbens, who holds a Coast Guard 100 ton masters license; ArrowCat Vice President Rob Harty; and BlueWater Distillery CEO John Lundeen, who is also an avid sailor of the inside passage.
From Victoria Island to Hope Island, the average speed of the boat was 30 mph, with speeds ranging from 25 mph to 40 mph. Just as it got dark at the Southwest tip of Hope Island where the bulk of the open ocean starts, a GPS unit failed. Before heading into the ocean at night, Stebbens rigged a backup. Ocean conditions were six foot swells with eight second periods and a 20 knot wind tossing up fray, making the swells fairly steep in the trough for the 30-foot power catamaran.
The crew surfed down the swells with one man on throttle and one man on the wheel glued to the radar display and compass. After six hours, they slowed down, throttled back, and coasted at six knots for a couple of hours to let the crew rest. At the crack of dawn, they powered back up and started surfing again.
"With more than 30,000 miles of offshore sailing, running down these swells between 20 and 40 knots is not only the most fun I've ever had while surfing, it underscores the savage New Zealand roots of the boat, and the genesis of design and construction," Stebbens said. "The west coast of Vancouver Island is a perfect proving ground for this boat."
Pacific Yachting's Pacific Challenge 30-foot category allows for one fuel stop, which was almost foregone, but because the high seas didn't allow as much economy on the West side of island as initially hoped for, and 100 miles before the end of the challenge calculations were made that indicated an unacceptable margin of risk, at Ucluelet a margin of fuel was pumped aboard. Only two gallons of it were needed.
"Of all the things thrown to the wind during the challenge, caution was not one of them," said Harty. "We really enjoyed the trip, and since we had the distiller along, we did stop to toast Neptune, who apparently drank an extra two gallons of fuel, but we consider it a privilege to make payment for safe passage."
"We are very grateful to be making a boat capable of such a trek," Stebbens adds. "We wish to thank Sherwood Marine in Victoria BC for the last minute support we received for a power steering line before the journey began and West Marine, Mercury Marine, Flir and our good friends at Blue Water Vodka for significant support. We enjoyed this so much that it is safe to say we are very interested in doing this again in one of our 32-foot ArrowCats, or supporting one of our customers, should they decide to put their boat to the ultimate test."
About ArrowCat Power Catamarans
Since 2007, ArrowCat Power Catamarans has been a leading NMMA certified builder of 30-foot, 32-foot, and 42-foot power catamaran boats in CE category B, coveted for near offshore and rough water capability. Highly fuel-efficient, ArrowCats are handcrafted by ArrowCat Marine and have had proven success on seven seas and four oceans.
ArrowCat U.S. Base of Operations is located at 1205 Craftsman Way, Suite 111, Everett, WA 98201. For more information, visit http://www.ArrowCat.com or call (877) 277-6999.