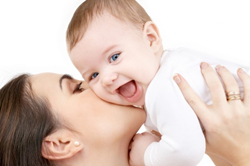 Although breastfeeding may feel uncomfortable in the beginning, a poor latch can make the experience unbearable. -Dr. Kelly Kovaric
Austin, TX (PRWEB) August 27, 2014
An American Academy of Pediatrics study found that breastfeeding helps brain development, immune system, and digestive health in newborn babies, but some mothers find the experience unbearable due to latch problems.
In a recent article, Dr. Kelly Kovaric of the Pediatric Center of Round Rock explained that babies may not comfortably latch onto the mother's breast within the first month of life due to an oral condition called Ankyloglossia, or heart-shaped tongue. The condition is "caused by a little piece of tissue, known as the frenulum, that sticks the tongue to the floor of the mouth," said Dr. Kovaric.
Ankyloglossia usually goes away as the baby grows and the frenulum stretches out. If the pain to the mother is unbearable during breastfeeding, an Ear Nose and Throat doctor can clip the frenulum.
"Your anatomy can also make a latch problematic," Dr. Kovaric said, referring to the mother's nipple as a cause of breastfeeding difficulties. Flat nipples do not provide a good latch for breastfeeding, requiring the mother to use a nipple shield (a small plastic cup that fits over the breast and has a plastic nipple).
Dr. Kovaric also informed mothers that "a good latch is when your baby's mouth takes in the whole areola, which is the dark part of the breast around the nipple." Repositioning the breast and nipple in the baby's mouth could correct the latch problem. "Use your right hand to direct your right breast into your baby's mouth, while using your left arm to cradle your baby and your left hand to hold baby's head, directing it to the nipple."
Engorged breasts may also cause latch problems. To remedy this problem, Dr. Kovaric says, "you may have to pump your breast milk in a bottle or use a supplemental nursing system" if the breasts become engorged. Dr. Kovaric also mentioned that a baby "born prior to 38 weeks may also have problems maintaining a latch because the baby is not strong enough yet."
The full article written by Dr. Kelly Kovaric can be read online by visiting http://www.pediatriccenterofroundrock.com.
About Dr. Kovaric
Dr. Kelly Kovaric is a board certified pediatrician at the Pediatric Center of Round Rock and is a member of the American Academy of Pediatrics, the Texas Medical Association, and Travis County Medical Society.