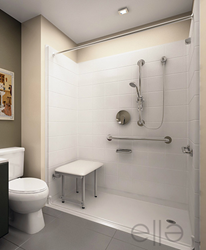 These premium wall systems make a wheelchair accessible shower installation much less complicated and time consuming.
New York, NY (PRWEB) August 26, 2014
The advantages of aging in place are becoming better known as the senior population grows in size and their plans for this part of life need to become more specific. At the same time, practical issues about how to adapt the current home to accomplish this comfortably present unique challenges. Product designers are coming up with many new ways to cope with different aging in place needs. One new approach is the announcement by Aging Safely Baths and More of their reinforced multi-piece walls for handicapped bathing systems.
This new wall system has a plywood reinforcement which minimizes flexing the wall joints. The walls for the installation are multi-piece so they can fit in tight places and install properly in different sized bathrooms. These handicapped bathing systems are available with low wheelchair accessible thresholds and an optional wheelchair ramp. They are made in the United States, have a full 30 year manufacturer's warranty and there is no additional charge for shipping within the Continental U.S.
The majority of the elderly do have a fear of falling although they may not spend a lot of time talking about it, and the combination of smooth floors and water can make the bathroom one of the most dangerous rooms in the house. Research studies support that the potentially lower costs of modifying a home compared to the increasing costs of nursing home and other care is a good investment. The benefits of walk in tubs and roll in showers to accommodate wheelchairs, combined with being able to use hydrotherapy to make aging joints feel better, are well-known.
Along with introducing their new line of reinforced multi-piece walls for handicapped bathing systems, Aging Safely Baths and More has special promotions in effect for walk in tub and hydrotherapy products through the end of the year. The company headquarters is located in Colorado. Consultations are available without obligation and patrons are encouraged to request information regarding aging in place products for their home.
Contact Information:
Brian Graham
1-888-779-BATH(2284)
www(dot)agingsafelybaths(dot)com