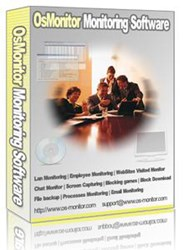 (PRWEB) August 26, 2014
Recently, Os-Monitor.com, an outstanding company in the software industry, has added a new range of employee computer monitoring programs (http://www.os-monitor.com) to its product line. At the moment, all its current and prospective customers can enjoy a discounted rate of up to 10% off.
The employee computer monitoring programs (http://www.os-monitor.com/download.htm) from Os-Monitor.com are excellent guards of high productivity and internet security. They can be applied in companies of all sizes. The supplier has a huge selection of practical and affordable products for sale. Its products can record and track plenty of computer activities like IM conversation and screenshots. The employers can find every detail about their employees' PCs and Internet usage on the server, and prevent them from doing something that is not allowed. In a word, its monitoring programs are practical.
The CEO of Os-Monitor.com believes the new employee computer monitoring programs will be popular among clients worldwide. "We are very proud to unveil our new items. Now, all employers can order cheap employee computer monitoring programs on our website. These useful programs are carefully made by our top experts. Please note that the special offer will be valid until September 10, 2014," he says.
Moreover, Os-Monitor.com aims to facilitate all companies; a lot of its products have been highly praised and appreciated by international customers.
About Os-Monitor.com:
Os-monitor.com is a website platform owned by Wangya Computer Co., Ltd, which was established in the year 2006. The company specializes in developing different kinds of useful monitoring software programs. It has its own development offices based in Asia. The company's practical employee monitoring software products are very popular in the market. For more detailed information about its products and services, readers can visit its one-stop website.