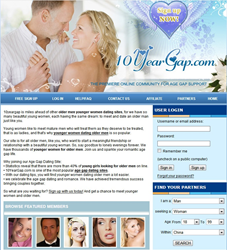 Los Angeles, California and Ontario, Canada (PRWEB) August 27, 2014
The world of dating seems to be going through a huge transformation as was revealed in a survey conducted recently by 10yeargap. The results of this 2014 survey were not just surprising but astonishing as well, and for older men, well, inspiring too. The survey carried out online interviewed existing members on the 10yeargap website and even on social media websites like Facebook.
According to Kaly, 10yeargap marketing department manager," there are more and more young girls looking for older men and girls said that they would prefer a matured older man as their dating or life partner as they bring a lot of stability to the marriage or relationship." This claim is well backed by data. Statistics reveal that almost 40% of the girls or women on the website opted to go with older men.
Whether it is a relationship or friendship or even a casual fling, the trend of younger women getting inclined towards older men is catching on. "Older men can offer more financial stability, have been through the tough trials of life, are matured, and display rational behavior," said Kaly while quoting some of the interviewed women members of 10yeargap. Earlier, it used to be about money or about marrying "pot of gold" but that thought pattern is rapidly changing.
The current trend proves one thing beyond doubt -- younger women dating older men -- It is definitely not about money any more. Girls or women of today are more concerned with long-term prospects of their relationship, something older men are thought to be better equipped to handle.
Women interviewed by 10yeargap revealed that older men don't make a fuss about anything, are open to new ideas, act as a role model, provide necessary guidance, and, above all, take better care of emotional needs of their partner in contrast to younger men. Younger women also believe in the fact that older men bring in a lot of patience and understanding to a relationship, something which younger men clearly lack. Another thing that works in favor of older men is time. Unlike younger men, who give a greater part of their time to building a successful career, older men are able to give their partners the attention they deserve because they have already achieved much professionally. These reasons, more than anything else, have led to more and more younger women getting attracted to older men on older men younger women dating sites. Another great news is that many members of 10yeargap have found a lot of stability in their lives after dating older men from the website.
Who knows what the future will reveal, but right now, the scales are definitely tipped towards "younger women – older men" dating and relationship.
About 10yeargap:
10yeargap.com is one of the leading dating website for single women looking to meet likeminded single matured men. It is the top dating portals in age gap dating today and is a place where young singles can find friends, date, establish a relationship; talk about varied interests, and even take their relationship to the wedding altar. The website was started in 2001 and since then, has been able to bring together thousands of singles together successfully on a single platform.