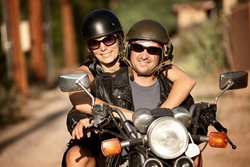 Los Angeles,California (PRWEB) August 28, 2014
Biker Kiss is getting fantastic reviews as a great resource for a place to start new biker friendships and relationships in a way that's fun and interesting. Many people would agree that there are few lifestyles as fun and free as a biker's, but sometimes even bikers can use a little help meeting that special someone. Fortunately, bikers can now make connections easier than ever thanks to the world's largest biker online dating site, the recently launched BikerKiss.com. Biker Kiss is easy to use, affordable, and receiving tremendous feedback from motorcycle lovers who appreciate how easy it's made making new friends.
"Our dating site is really something we feel passionate about," commented a spokesperson from Biker Kiss. "There's no better place in the world to connect with other bikers. There's literally hundreds of thousands of bikers participating on Biker Kiss right now, and the number goes up all the time!"
Not just singles, Biker Kiss also has links, connections, and photos from all over the biker world, including things like tattoo shows, motorcycle photos, biker videos, biker forums and much, much more. Joining is both simple and affordable, with free "standard" memberships even available. Most users end up opting for a "gold" membership which opens up even more features of the site and costs less than $20 dollars a month.
Members' reviews certainly point toward it being a worthy investment.
Tony Pica, from York, Pennsylvania, recently said, "Karen and I met through your site and after a few e-mails and phone calls, we decided to meet. What a great first date.We've done skyline drive and spent a week together at the shore (she sure can pack a suitcase). It's been a fantastic summer and we're looking forward to what life has to bring us. Thanks for a great place to meet great people."
For more information, visit http://www.bikerkiss.com.