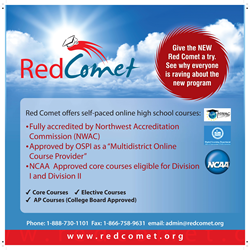 Prosser, WA (PRWEB) August 27, 2014
Red Comet is excited to launch several new courses in Health and Physical Education. For the 2014-15 school year, students may enroll in new enrichment courses related to First Aid & Safety, Health Careers, Adaptive PE, and Sports Officiating. Students who want to explore potential career prospects in the field of Health and Physical Education will find the curriculum rigorous and engaging.
Red Comet is a Fully Accredited (NWAC, AdvancED) organization that has been offering online courses for credit since 1999. Students have over 175 courses to choose from. Many of these courses are also approved by the NCAA organization. In the State of Washington, the Office of Superintendent of Public Instruction (OSPI) has approved the Red Comet program as a "Multi-District Online Provider," "Online Course Provider," and "Online School Program". In a statewide survey, Red Comet received high ratings for student satisfaction. Students use the Red Comet online program for original credit, credit retrieval, and credit recovery.
For Immediate Release
Contact Information:
Ms. Sapna Ganeshan
President
Red Comet
1-888-730-1101