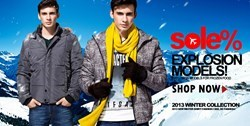 (PRWEB) August 27, 2014
The summer days are sliding by and soon it will be autumn. Autumn is also called "the chiffon blouse season". Recently, Skmen.com, an outstanding online supplier of high quality clothes, has announced its new collection of fashionable chiffon long sleeve blouses for 2014. In addition, the company is now providing great discounts for these excellent products.
The company decided to create the new selection to expand its online market. All the international clients can get a discounted rate (up to 30% off) at the moment. The brand new chiffon long sleeve blouses come in various designs and colours. They are especially made to help ladies to shine among the crowd; all of them are offered in various sizes.
The company's senior spokesman states, "We are very excited to unveil the new collection of graceful chiffon long sleeve blouses. The aim of our company is to be the best clothing suppliers in the market. Whether you are looking for a beautiful long sleeve blouse or a sexy mini dress, we will always have something suitable for you."
Additionally, Skmen.com's new range has more than 300 in it. They are all made according to the most popular styles in the global market. The senior spokesman believes they will be hot sooner or later.
About Skmen.com
Skmen.com, a reliable company founded in 2009, is one of the leading suppliers of men's and women's high quality clothes. It has more than 5000 customers from every part of the world; it hopes to help worldwide stylish ladies and gentlemen. Now, it is selling thousands of fashionable items online. For more detailed information about the company and its wonderful items, readers can visit http://www.skmen.com/product-long-sleeve-blouses-003009004.aspx.