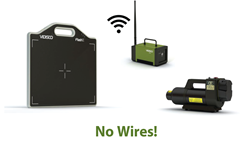 Vidisco's portable Digital X-ray security systems are unique in that they are designed specifically with the security agent in mind.
(PRWEB) August 26, 2014
Vidisco recently added a new movie clip about the FlashX portable digital X-ray security system to its website movie page and its YouTube Channe l. Besides featuring some great X-ray images, this clip explains about the fully wireless FlashX system, outlining every component with a brief explanation to give the viewer a better understanding of the system's highlights.
The FlashX portable digital X-ray system offers some of the most important features to enable security agents to keep us all safe. It allows for one approach downrange and produces incredible images instantly. This portable digital X-ray security system is rugged, battery operated and fully wireless. It is compact, weighing only 4.8 kg and has a large imaging area of : 34.2 X 43.2cm (13.5X17 in). See this video to learn more about this great portable digital X-ray system.
As part of Vidisco's ongoing efforts to improve customer satisfaction, the company keeps creating new movie clips that explain about the systems and helpful tips and tutorials regarding the optimal ways to use the products. In addition, on the company's website and YouTube Channel, you can find an array of other movie clips describing its entire product line and about the company itself. There are also several clips about the different applications of the Vidisco portable digital X-ray system.
Ron Pincu, Vidisco's VP Marketing, stated: "Vidisco's portable Digital X-ray security systems are unique in that they are designed specifically with the security agent in mind. Each component of every system has been carefully designed to meet the needs of Security X-ray operator. The FlashX portable digital X-ray system was created to work all sorts of conditions, from rugged terrain to sub-zero temperatures and is ideal for almost all security needs. The new video will help potential customers get better acquainted with this advanced system."