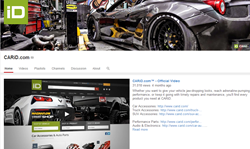 (PRWEB) August 28, 2014
CARiD.com, one of the largest and most reliable e-commerce stores of automotive parts and accessories, goes the extra mile to provide its customers not only with premium quality products but also with essential information about the parts, their installation, other customers' experiences, as well as various auto shows. CARiD constantly uploads new videos to its YouTube channel to provide more information about the parts and accessories it offers, and in August 2014, CARiD began to upload videos in HD quality so that all users may enjoy sharp and clear videos. On CARiD YouTube channel, there are more new videos in all categories, including the Product Information category, which provides the requisite facts about parts and accessories and explains how to choose the right ones for a vehicle; Installation and How-To's, which explain how to easily and quickly install parts and accessories; Customers' Reviews, which include real-life stories and experiences shared by car owners; Custom Wheels, which helps to choose the right wheels for a vehicle, providing detailed information about the product. And for those who are looking for something easy on the eye, CARiD uploaded new videos in HD quality where beautiful girls are posing next to hot sports cars.
It should be pointed out that if customers haven't found the installation video they were seeking on YouTube, they can visit a new Installation Instructions page where all installation manuals are gathered under one roof. For example, if a user wants to learn how to install a roof rack, they can click on Roof Rack Installation Instructions and get to all of the roof racks available at CARiD. Knowing the part number, a customer can find the right manual in just a minute.
As of August 2014, CARiD.com has more than 800,000 likes on Facebook thanks to its stunning vehicles and bright photos. CARiD has always been active on social networks such as Facebook, Twitter, Google+, and myCARiD to always stay in contact with their customers. By the way, myCARiD is a new social platform, enabling car fans all over the world to connect with each other and share information about their vehicles. Designed with the customer's needs in mind, this social network is a great way to find like-minded people, discover amazing stories related to all things automotive, and get design inspiration.
With the addition of new high-definition videos and useful pages, CARiD has made it easy and pleasant for every customer to get premium auto parts and accessories as well as detailed product information. This is the foundation on which the company was started and which will always be at the core of what CARiD does.
About CARiD:
Founded in New York City in 2008 and today located in Cranbury, New Jersey, CARiD is growing day by day. The company provides an extensive selection of high-quality automotive parts and accessories, both factory original and aftermarket. CARiD works in close cooperation with the most reputable manufacturers in the auto business, including Coverking, Husky, Bosch, Dorman, Curt, Pirelli, DashMat, Replace, and Magnaflow, who guarantee the superior quality of their products. On CARiD's digital shelves, customers will find everything they need from running boards and floor mats to turbochargers and performance chips. CARiD.com is a user-friendly website ensuring a pleasant, hassle-free shopping experience thanks to several convenient search options such as Shop by Product, Shop by Brand, and Select Vehicle.
Location:
1 Corporate Drive
Cranbury, NJ 08512 USA
Phone: 800-505-3274 (toll free)
Fax: 609-964-1983