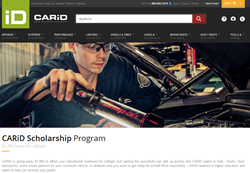 (PRWEB) August 28, 2014
Take a picture and make money. Every US student now has a chance to win a $1,000 award as a part of a new scholarship program recently launched by CARiD to support higher education and help future professionals to achieve their goals. Starting in August 2014, CARiD is sponsoring two $1,000 scholarships annually to cover college expenses, for the spring and fall semester. Books, food, a couple of new bells and whistles for a commuter vehicle, or anything else a student needs to get ready for college now can be bought with money that one of the largest e-commerce stores gives away. What an applicant needs to do is to take a cool automotive-inspired photo. It can be a hot vehicle seen on the street, some custom modifications that make a vehicle one-of-a-kind, or any other aspect of automotive creativity. A picture can be cropped, spliced, or edited.
This new scholarship is available to current US students who are between 16 and 20 years old and enrolled in post-secondary education in the upcoming semester. To apply for this scholarship, the student should simply send one photo in a JPG format to scholarship(at)CARiD(dot)com before midnight on October 31 (fall program) and before midnight on April 30 (spring program). The email must also include first and last name, phone number, birthdate, email address, and school that the applicant is attending. The most creative photo will be published on my.CARiD.com and other social media pages, and the winner will get a scholarship award of $1,000. Winners will be announced on November 15 (fall program) and May 15 (spring program).
CARiD always offers its customers the most beneficial programs and discounts, and this new scholarship program created to encourage US students is not the only one designed by CARiD lately. Beginning in summer 2014, the US heroes who guard the American people's freedom, namely active duty military, veterans, and their families, can shop for vehicle parts and accessories at CARiD.com with a 10% discount. The company also recognizes all First Responders and wants to thank them for their selfless service by providing a 10% discount for Law Enforcement, EMTs, Paramedics, Firefighters, and Search and Rescue Personnel on eligible products. It's a way CARiD has chosen to express gratitude to those who risk their lives for the sake of freedom, safety, and independence.
About CARiD:
Founded in 2008 in New York City, CARiD.com is one of the largest e-commerce suppliers of automotive parts and accessories. Today the company is based in Cranbury, New Jersey, and has a number of warehouses across the USA. The company has developed relationships with some of the most trusted brands in the automotive industry to ensure only quality products reach its clients. The experts at CARiD go the extra mile to make it easy for customers to search for and get premium car parts and accessories that meet their exacting demands. Thanks to CARiD.com, clients can conveniently order the right automotive products from the comfort of their home and receive timely delivery. More information about CARiD is available via this link: http://www.carid.com/about-us.html.
Location:
1 Corporate Drive
Cranbury, NJ 08512 USA
Phone: 800-505-3274 (toll free)
Fax: 609-964-1983