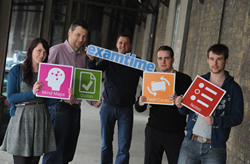 'If the founders of Quizlet, Evernote, a couple MOOC platforms, Google docs, and YouTube were locked in a room, they would probably come out pitching something like ExamTime.com,' Accredible.com.
(PRWEB) August 27, 2014
An edtech start-up is turning the hype of edtech into reality with the launch of their ExamTime.com product out of beta. ExamTime.com is demonstrating the ability of powerful learning tools to drive engagement within education. Having been in beta for less than 2 years, it is transforming the learning of students and teachers in the US and beyond by using technology to turn learning into an active process.
"If the founders of Quizlet, Evernote, a couple MOOC platforms, Google docs, and YouTube were locked in a room, they would probably come out pitching something like ExamTime.com. This one is the ultimate learning tool." – Accredible.com
ExamTime.com allows students and teachers to go beyond content and use tools to engage in the subject matter. The e-learning platform encourages students to create their own personal learning environment. Using the site they can create, discover and share learning resources which helps them to get the best return from their study time. The ExamTime.com site includes tools such as Mind Maps, Flashcards, Quizzes and online Notes, which can all be personalized to the individual needs of the user.
ExamTime.com was founded by Dualta Moore, who recognized that technology was not yet delivering students more options to learn. "Content is becoming more widely available online, however the tools to help understand, summarize and test knowledge on this content was missing," comments Moore. "Too often when the learning aspect is addressed, platforms are built for institutions and not the end user in the education process, the teachers and students."
For full product launch, ExamTime.com is introducing a number of new features. Using adaptive learning techniques the system is now able to track the progress of individual users over time and recommend study content suited to their needs. Users can also take a copy of resources and build their own learning experience with it. Premium accounts are now available for the most active users who want to take their learning to the next level.
Initially launched in English, ExamTime.com is now also available in Spanish, Portuguese and German. The tools on the site are universal and are designed to help any student to get a better outcome whether they are in Boston or Buenos Aires, Berlin or Bogota. ExamTime.com has this month been announced as one of the 30 most promising edtech start-ups for 2014 by the Global EdTech Startup Awards.
To date 1 million resources have been created by teachers and students, with over 15 million learning sessions taking place on the site. Teachers are using the tools in class or as study aids for their pupils at home. One feature designed with teachers specifically in mind was the Groups feature, where teachers can share resources and engage in discussions.
The engagement of ExamTime.com users is proving that the appetite is there for solutions such as this. "When we started out we wanted to provide students and teachers with access to brilliant learning tools. We wanted a platform where resources could be created and organized easily. Finally we wanted to use the power of the connected web to allow students and teachers to learn from each other," comments Moore.
"The numbers and geographical spread of users in beta mode has been a fantastic validation of what we believe is possible with technology and education," adds Norman McBrien, Head of Marketing at ExamTime.com. "As we launch with a full site, the goal is to keep developing features to make learning become more active and engaging."
About ExamTime.com
ExamTime.com is a personal learning environment that provides a range of software applications to enable students and teachers to transform their learning. ExamTime.com is free and simple to access, so everyone can start improving their learning straightaway.
ExamTime.com has offices in Dublin, Ireland and Belfast, UK, and currently employs 25 people.