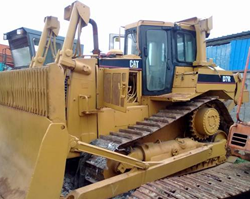 (PRWEB) August 28, 2014
Delta, a reliable supplier of high quality secondhand construction machines, has recently added several practical Cat D7R Dozers to its used bulldozer collection. And this morning, the company's senior spokesman has announced that all these items are offered with deep discounts. The main purpose of this promotion is to expand Delta's market share in the coming September.
The senior spokesman feels proud to launch the special offer; he has much confidence in the discounted Used Cat D7R Dozers. All the company's clients can get a low price during the promotional period. In fact, Delta has extensive experience in the selling secondhand construction machines. Its last used cat dozer collection sold well in the global market.
In the coming days, Delta will announce more new products to enrich its product category. Every item offered by the company is carefully selected by top experts; they are promised to be good. Its experts have a vast knowledge of customer needs and product quality.
For additional information, Delta is working hard to make sure that its website is running smoothly and the global clients can order what they like easily. Thus, customers can save plenty of time and money when purchasing used construction machines on the company's website.
About Delta
Delta specializes in the sale of used excavators, loaders and many other construction machines. The company has been working in the industry for 12 years; it offers great items and comprehensive after-sales services for all clients. Additionally, it provides real pictures of its machines if needed. For more details about the company's products and services, readers can visit the website.
Contact Person: Jone Smart
Company Name: Shanghai Delta Company
Tel: +86-18217278368
E-mail Address: sales(at)deltainchina(dot)com