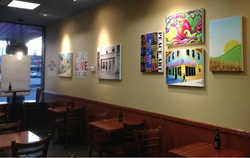 Annandale, VA (PRWEB) August 26, 2014
Leading commercial furniture distributor, Restaurant Furniture.net recently teamed up with Flame n' Grill in Annandale, VA to help them upgrade their seating by supplying them with American made wood chairs.
Flame n' Grill is a fast casual restaurant who prepare only the highest quality products daily. They offer different varieties of authentic items fresh-off-grill flavor, using grass-fed meat from local farms. The beef used in their gourmet burgers is environmentally friendly and Is from grass-fed cattle raised without hormones or antibiotics. They serve Indian and local Creole cuisines, primarily Barbequed, Char-grilled & Tandoori cooked food.
The variety on the menu includes salmon burgers, kebabs, burritos, tandoori chicken, fried chicken, salads, to lamb burgers and more. They also have a variety of options for health-conscious & vegan customers. The restaurant offers take-out and sit-down dining. There is outdoor seating and free wi-fi is available.
The owner contacted Restaurant Furniture.net to buy new seating. He chose Restaurant Furniture.net because of their reputation as a valued manufacturer of high quality commercial furniture and competitive prices.
For new seating the owner decided to go with classic Premium US Made Ladder Back Wood Chair in cherry finish with solid wood seats. He also bought Premium US Made Vertical Slat Wood Bar Stools in cherry finish with solid wood seats. Like most of Restaurant Furniture. net's wood furniture, the Premium US Made Ladder Wood Chairs and other wood chairs and bar stools are made in the USA of solid wood from responsibly harvested wood. The wood bar stools are available in 5 standard finishes: mahogany, walnut, natural, cherry and dark mahogany.
"The Premium US Made Vertical Slat Ladder Back Wood Chairs and Vertical Slat Wood Bar Stools were just what the owner wanted to complete the classic look he was going for," said David M., salesperson for Restaurant Furniture.net. The Premium US Made Ladder Back Wood Chairs sells for $78 and the Premium US Made Vertical Slat Wood Bar Stool sells for $91. Restaurant Furniture.net also makes custom finishes for an additional charge. Customers also have the choice of vinyl padded seats, which are made in the U.S.A. are available in vinyl or fabric in a wide selection of colors and patterns and can also be custom made out of any material to the customer's specifications. Solid wood seats are also available and a custom finish can be made for an additional charge.
Browse Restaurant Furniture.net's full selection of commercial grade chairs, bar stools, table tops, table bases, booths and patio furniture at http://www.restaurantfurniture.net or talk to a customer service representative at (888) 409-1115.
Flame n' Grill is located at 6920 Braddock Rd. in Annandale, VA. They can be contacted at: (703) 984-2887.