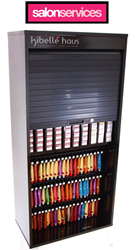 (PRWEB UK) 27 August 2014
Salon Services announced its participation in Salon International 2014, which promises to be the most thrilling event of the year. The company are exhibiting with a carefully selected professional range, including the Rusk hair care collection, Salon Services branded hair products as well as a number of exciting novelties.
During the show it will be possible to have a closer look at the latest Vezzosi salon furniture collection and explore the innovative Kibelle Haus hair tints dispensary. Salon Services also promises to organise thrilling demonstrations of some the most popular hairdryers, straighteners and curling wands. All orders placed at Salon International will be VAT free and will also benefit from special discounts.
A spokesperson for Salon Services says: "We are very excited about participating in Salon International. It is one of the most important annual events for us. We really feel that the show gives us a fantastic chance to exchange our passion for the beauty industry and learn something new as well! We've been carefully planning our participation for some time now and we are looking forward to presenting our innovative products to hair and beauty professionals!"
Competition
To celebrate the event, Salon Services launched a competition offering a chance to win a professional hair colour dispensary designed to keep hair salons clean and organised.
Exclusive to Salon Services, the Kibelle Haus Dispensary is essential in each hair salon. Its unique and patented design allows hairdressers to organise new and opened tints in a way that makes them easy to find and store. Opened tints are hung on a custom bar with shade numbers displayed for fast identification. Moreover, the innovative squeezing mechanism allows hairdressers to reduce wastage, saving up to 10% in tint orders.
To participate in the prize draw, participants must complete the online form available here. The winners will be picked at random from all competition entries at Salon International on 11th and 12th of October and notified by e-mail within 7 days of the announcements.