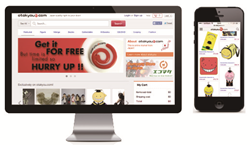 Tokyo, Japan (PRWEB) August 28, 2014
These are REAL Japanese anime/manga goods offered by REAL Japanese "Otaku ( "a Japanese term for people with obsessive interests, commonly the anime and manga fandom" - a definition by Wikipedia).
Why visit otakyou.com?

1 : We carry some rare items that are only available in Japan;
2 : Items sold in otakyou.com are from various individuals and retailers to deliver maximum selections for the users;
3 : Otaku worldwide are waiting to exchange information via online forum and blog page provided by otakyou.com;
4 : otakyou.com guarantees "Japanese" quality.
All items are carefully selected by real Japanese Otaku, and otakyou.com is operated by a Japanese company so users can expect high level service quality.
Service overview:
Service name : otakyou.com
Sellers : Japanese users
Buyers : Users outside of Japan
Languages available :

Membership fee : Free
URL : https://www.otakyou.com/
Giveaway propmotion :
We are giving away otakyou.com tin badges to membership subscribers. Please see below website for details:
https://www.otakyou.com/products/1157
Corporate profile :

Name : Phybbit Ltd.
Address : 7-10-7 Barbizon 39 6F ,Minato-ku,Tokyo 107-0062 Japan
Company website : http://www.phybbit.com/
Contact :
info(at)otakyou(dot)com