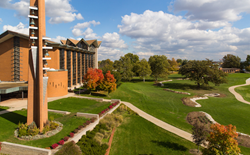 Valparaiso, IN (PRWEB) August 26, 2014
Valparaiso University expects to welcome nearly 1,000 new undergraduate students when classes begin Tuesday for the fall 2014 semester. Valpo anticipates total enrollment will be nearly 4,525 — the largest in 34 years.
"It's an exciting time of positive momentum at Valpo, and we continue to recruit, enroll and retain remarkable students of outstanding character," said Michael Joseph, vice president of Enrollment Management.
Valpo anticipates total enrollment growth across disciplines, despite national trends in higher education. The University expects to enroll 500 new students in the College of Arts and Sciences, 125 new students in the College of Business, 125 new students in the College of Engineering and 215 new students in the College of Nursing and Health Professions.
The academic year begins Tuesday, Aug. 26, with the 86th annual Opening Convocation. During the service, all new students will be invited to sign the student-initiated Honor Code that has guided academic integrity for more than seven decades: I have neither given or received, nor have I tolerated others' use of unauthorized aid. The pledge signifies the students' commitment to hold themselves and others to the highest standard.
Valpo's class of 2018 continues the University's record of attracting high-quality students. The incoming freshman had an average high school GPA of 3.6, and they averaged 1660 on the SAT and 26 on the ACT — both well above national averages.
In addition to enrollment growth, campus infrastructure and academic programs continue to expand. Beacon Hall, a suite-style residence hall, is now open for sophomore students, featuring 16 community lounges. The College of Business added a bachelor's degree in business analytics, and the College of Nursing and Health Professions expanded to include additional health science degree options.
Valpo also expects record enrollment for the Graduate School, with 260 new graduate students, representing 36 different countries. The Law School expects to welcome 174 new students.
-30-
About Valparaiso University
Valparaiso University is a comprehensive independent Lutheran university with more than 4,500 students on its campus located in Northwest Indiana, an hour from Chicago. Valpo is a community of purpose-driven, service-minded and ethical individuals who embrace the pursuit of truth with freedom, humility and compassion. Valpo has been identified as one of the top master's-level institutions in the Midwest by U.S. News & World Report magazine for the past 25 years. Valparaiso University offers more than 110 undergraduate academic programs through the colleges of Arts and Sciences, Business, Engineering and Nursing and Health Professions. Valpo also has a distinguished honors college, a Law School, and more than 40 degree and certificate programs in its Graduate School and Continuing Studies. Valpo has been recognized for its commitment to outstanding teaching, preparing thoughtful leaders with strong cross-cultural skills and global awareness and dedication to serving others.