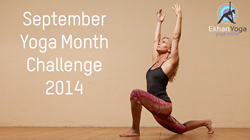 'This program will help you experience what it's like to have a regular yoga practice. The gradual build up every week makes it accessible to everyone.' - Esther Ekhart
(PRWEB) August 29, 2014
September yoga month was created by the Yoga Health Foundation to raise awareness of yoga and its health benefits. To support this Ekhart Yoga is offering those interested a chance to join their "Yoga Month Challenge"
This 4 week guided online yoga program is especially designed to help new and experienced yogis practice yoga regularly from their own home. Led by Esther Ekhart, the 'Yoga Month Challenge' is suitable for all levels, and the dynamic classes will help build strength and stamina and increase flexibility.
Available to everyone
For those new to practicing yoga online, Ekhart Yoga is offering a free 14 day trial that will give everyone a chance to try the Yoga Month Challenge. It's easy to sign up and no credit card details are required to claim the trial.
Why do Yoga?
A regular yoga practice changes our bodies, even from day one. It can help lower stress levels, increase overall flexibility and strength, maintain healthy body weight, reduce chronic pain, improve focus and concentration and even alter gene expression. Many reasons to accept this challenge!
Ekhart Yoga Giveaway
As an extra incentive to try yoga, all new full members that join Ekhart Yoga in September are in with a chance of winning one of 10 annual subscriptions. This gives unlimited access to over 900 online yoga and meditation classes. You can find out more about the giveaway in their blog.
About Ekhart Yoga
Ekhart Yoga is Europe's largest online yoga studio. Ekhart Yoga aims to provide "Real Yoga for Real People" offering classes for complete beginners to advanced yogis in an accessible, down to earth way. To find out more please visit http://www.ekhartyoga.com.