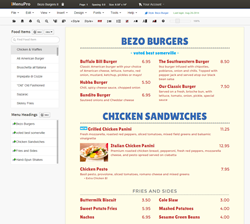 'iMenuPro is a fantastic tool to design and manage all of our food menus. It's very quick and easy to use, delivering a professional looking menu in seconds. No more inconsistent word documents!' - Ashley Letchford, Director (The Jam Tree, UK)
Cabin John, MD (PRWEB) August 27, 2014
Online menu design is now affordable to all restaurants with the launch of iMenuPro.com, an easy and fun web app that lets restaurant owners take control of their menus. Instead of modifying canned templates, iMenuPro lets users customize stylish pre-designed menu styles to brand their menus and create something truly unique. Launched by veteran menu experts SoftCafe, the creators of the world's most widely used desktop menu software program MenuPro and more than two decades of industry experience, iMenuPro.com features cutting-edge menu design technology that's unavailable anywhere else.
iMenuPro.com is on a mission to bring professional menu design to every small and independent restaurant, spa, or business with menus by offering a service that's just $15/month and removes the hassle of creating restaurant menus the traditional way – struggling with Word or waiting and paying for expensive graphic designers and printing services.
It features over 100 instant menu styles which are all fully customizable, from the paper size and layout, down to the accents, colors, fonts, borders, backgrounds, and more. A simple drag and drop interface lets users add or remove menu items in seconds, and built-in, state of the art PDF conversion delivers pro-quality PDF menus that can be printed in-house or taken to local print shops for high volume printing. And best of all, to keep their website menus in sync with their printed menus, iMenuPro includes a unique live-sync feature which updates their website menus whenever they change their printed menus – like magic – all in a mobile friendly format.
iMenuPro.com saves restaurant operators time and money as it allows them to make instant changes to their menus, at any time, without having to pay or wait for graphic designers or print services. When food costs change or item substitutions occur, operators can react with a new menu – even at the last minute. And they can do it all in style.
For more information about iMenuPro.com, or to get started designing and customizing your own menus, visit iMenuPro.com today. The trial is free, and no signup is required.