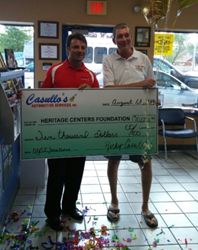 Together, we can make a difference.
Buffalo, NY (PRWEB) August 26, 2014
Now is the time for giving, and Casullo's Automotive of Kenmore, NY has taken that philosophy to a whole new level. Back in January, 2014 Casullo's announced its "Car Inspection for a Cause" campaign which would benefit the Heritage Centers of WNY, a local non-profit foundation with a focus on those with disabilities and their families.
"Together we can made a difference," is what Rocco Casullo, president of Casullo's Automotive Services, Inc said back in January when the company began its 2014 campaign, and what a difference it has made. Over $10,000 (and counting) has been raised as of August, and there's still months to go. You can learn more and actually view a month-by-month pacing chart here, as well as in the store itself.
The concept is pretty simple- Take the twenty-something dollars a year that everyone has to spend anyway on their annual car inspection, and then give that to the not-for-profit. Paying it forward was the reasoning behind the campaign, Casullo's just wanted to show its appreciation for the community that supports them and in turn, support a deserving charity, but the campaign has reached heights beyond most expectations.
The Heritage Centers of WNY is a non-profit that serves those with disabilities and their families to help them achieve a desired quality of life. Over 3,000 children and adults benefit from the services provided by the foundation in the area. Some of the services provided include education, transportation, social programs, as well as offsetting cost of living expenses.
Locally owned and operated, Casullo's Automotive Services, Inc. has been serving the WNY area since 1990 with such services as (but not limited to) automotive repairs, service, and accessory sales and installation. Best known for their knowledgeable, ASE certified staff with a focus on customer satisfaction, they can boast annually receiving AAA's Top Shop award since 2001.
Inspections can be made by appointment at Casullo's at 2783 Elmwood Ave in Kenmore, NY Monday – Friday, 8AM – 5PM. For more information on Casullo's or "Car Inspection for a Cause" you can also be reach them by calling 716-867-3567 or by visiting http://www.casullos.com.