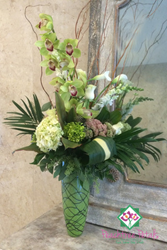 West Los Angeles, CA (PRWEB) August 27, 2014
Peachtree Petals, a recognized leading floral provider, specializing in premium floral arrangements and floral services, announces same-day delivery of its flowers. The West Los Angeles florist makes the announcement in effort to market its' new floral shop, expand visibility of its' popular floral bouquets and increase floral sales growth. Peachtree Petals strives to be the best choice in high-quality and custom-designed floral arrangements in the West Los Angeles and surrounding Los Angeles metro city areas.
Peachtree Petals offers same-day delivery of its' superior floral arrangements to all its customers for only $13.99. This is a standard delivery charge for all of the servicing areas daily, which is attractive to customers that enjoy low, simplified pricing. The florist also offers the option of next-day delivery for $11.99. All orders placed by 3pm, will be delivery the same-day, unless the customer has requested next-day delivery. From the best Los Angeles flowers to stunning Santa Monica flowers, Peachtree Petals does it all.
For more information on the Los Angeles and metro city areas in which same-day delivery is offered, Peachtree Petals has a West Los Angeles delivery area map within its' comprehensive website. On the home page, click on the tab "West Los Angeles Florist Delivery" and the page includes pinned map areas via zip code of all of the areas where the florist provides same-day delivery. For any questions regarding services areas, Peachtree Petal clients are recommended to contact the West Los Angeles florist, and a representative will assist them promptly.
Peachtree Petals is a well-known leader of superior floral arrangements and a recognized Master Florist nationwide. From get-well bouquets to birthday flowers, Peachtree Petals is able to meet all of your floral needs. Peachtree Petals services a growing list of clients, including company floral subscriptions and weekly floral services. The company offers a simple approach to the floral industry, most notably, same-day delivery of all their floral arrangements in the West Los Angeles and surrounding Los Angeles metro city areas.