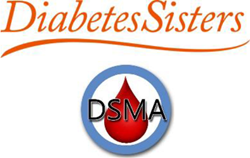 This Social Media Meetup connects and supports people with diabetes both online and in person. - Brandy Barnes, Founder & CEO, DiabetesSisters
Los Angeles, CA (PRWEB) August 27, 2014
DiabetesSisters is pleased to announce its third Social Media Meetup event in collaboration with Diabetes Community Advocacy Foundation (DCAF) as part of DiabetesSisters' upcoming Conference on October 24-25, 2014 at Embassy Suites LAX North. The two organizations are coming together to hold "DiabetesSisters' Social Media Meetup featuring DSMA Live", an event which is open to the public from 8-9 p.m. on Friday evening, October 24th.
Interactive in many ways, DiabetesSisters' Social Media Meetup featuring DSMA Live provides in-person attendees the opportunity to see and hear from Conference speakers and discuss their own personal experiences with diabetes with a live audience- online and in person. Those listening online via http://www.diabetescaf.org have the opportunity to participate in the conversation and connect with others by dialing in or communicating via twitter.
"This Social Media Meetup offers both organizations the opportunity to do what they do best—connect and support people with diabetes both online and in person. It is so dynamic and fulfilling to be a part of the connections made at each one of these events!" said Brandy Barnes, Founder and CEO of DiabetesSisters.
Prior to this public event, DiabetesSisters' Conference will kick off at 4 p.m. with an educational session entitled, "Connecting with the Diabetes Online Community (DOC)". Led by Cherise Shockley, founder of DCAF, and Kerri Sparling, founder of sixuntilme.com, session attendees will gain a better understanding of how to engage and make friends on the Diabetes Online Community and what tools to use. To see DiabetesSisters' full Conference agenda and speakers, please visit http://www.diabetessisters.org/2014la. While the conference sessions address the unique challenges faced by women with all types of diabetes, conference registration is also open to the loved ones of women with diabetes (friend, spouse, child, co-worker, parent) age 18 and over.
Registration is $125 per person until October 10th, when the rate increases to $150. Participants will enjoy educational sessions on Friday afternoon and all day Saturday in four areas of focus including: emotional and social wellbeing; health and nutrition; tools and technology; and exercise and physical fitness. Presentations will be given by many well-known diabetes experts and advocates. Each woman with diabetes in attendance will be recognized individually for the number of years she has lived with diabetes.
Sanofi is the National Premier Sponsor of the 2014 Weekend for Women Conference Series. Additional conference sponsors include Novo Nordisk, Tandem, Dexcom, and Animas.
About DiabetesSisters
A 501c3 nonprofit, DiabetesSisters is the only organization worldwide focusing exclusively on women with diabetes. Our mission is to improve the health and quality of life of women with diabetes and those at risk of developing diabetes, and to advocate on their behalf. DiabetesSisters has a 10,000-member peer network that unites women with diabetes for the purpose of support, education and advocacy. Signature programs include monthly small group meetings (PODS Meetups); DiabetesSisters' Conferences throughout the U.S; and the Life Class Webinar Series and online blogs, forums and expert resources. For more information, visit http://www.diabetessisters.org.
About Diabetes Community Advocacy Foundation
The Diabetes Community Advocacy Foundation supports and connects people affected by diabetes to their peers and health care professionals, which will help them foster community and education. Our programming includes DSMA Live, Twitter chats, and the Blue Fridays Initiative. For more information, visit http://diabetescaf.org/.