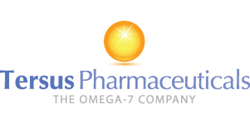 'Provinal® is a more heart-healthy Omega 7 containing over 50% palmitoleic acid. Feedback from the healthcare industry and reaction to recent studies (on Provinal®) has been extremely positive and encouraging.'
(PRWEB) September 02, 2014
Tersus Pharmaceuticals, LLC., a Cleveland-based biopharmaceutical firm announced today that they recently received a compositions and methods U.S. Patent US #8,703,818 (comprising C16:1n7-palmitoleate or derivatives). The current product available from Tersus, their branded purified Omega 7 fatty acid blend, Provinal®, contains over 50% palmitoleic acid.
"We are truly excited to announce the approval of this patent," says Lochlainn O'Haimhirgin. President of Tersus Pharmaceuticals, LLC. "Provinal® is a more heart-healthy Omega 7 containing over 50% palmitoleic acid. Feedback from the healthcare industry and reaction to recent studies (on Provinal®) has been extremely positive and encouraging."
Provinal® contains a 50% concentration of palmitoleic acid, an omega-7 monounsaturated fatty acid. It (the fatty acid) has been shown to support healthy cholesterol and C-reactive protein levels1 (a marker for inflammation in the body), and has a beneficial effect on other metabolic variables. The hsCRP test is a highly sensitive quantification of CRP, an acute-phase protein released into the blood by the liver during inflammation, which has been associated with the presence of heart disease.
In a few short years, Cleveland, Ohio-based Tersus Pharmaceuticals, LLC. has positioned itself as the nation's leading biopharmaceutical firm conducting research, development, and commercialization of purified Omega 7 fatty acids.