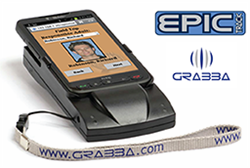 We're very excited to offer the Grabba Series devices along with EPIC Track. This partnership of data capture hardware and software creates the ultimate event tracking device that is easily adaptable to any organization's identity program.
St. Louis, MO (PRWEB) September 02, 2014
Elliott Data Systems, Inc., an expert in the development and integration of the Mobile Solutions™ line of identification, accountability and tracking solutions, released the EPIC Track 1.5 web application today. EPIC Track is a universal tracking solution that consists of any number of Mobile Tracking Devices, such as handheld barcode scanners or smartphones, and EPIC Track Cloud Server which is used to house database lists and host the EPIC Track web application. EPIC Track is used by organizations to capture and manage data of people, places and things during routine or special events.
This solution is often used to capture data by K-12 schools, higher education, construction companies, faith-based organizations, corporations and association organizations. This new application release has added features designed to enhance data management abilities and increase reporting options for User Administration.
Elliott partnered with Grabba, Inc. to configure the Grabba Series data capture devices with EPIC Track. This gives users the ability to use the Grabba technologies in a Grabba attachment to a smartphone to read one or many data sources including barcodes, RFID, HID (iClass & Prox) contact and contactless smartcards, and magnetic stripe cards. The Grabba Series is compatible with numerous smartphone brands including Apple, BlackBerry, Samsung, Motorola, HP and many more.
Grabba units provide additional battery power to the attached smartphone, greatly increasing its life between charges. The unique Grabba design allows them to be readily upgraded to work with later model smartphones, without the need to purchase new Grabba units. This substantially reduces the total cost of ownership.
All of this results in a very powerful and efficient integrated mobile system that is perfect for tracking from any location.
About Elliott Data Systems, Inc.
Elliott Data Systems, Inc. is a Mobile Solutions™ systems developer and integrator with expertise in deployment of Mobile Security, Positive ID, Accountability and Tracking Solutions. The EPIC Track Solution is now available to purchase through Elliott Data Systems or a number of business partners located throughout the United States. Elliott and their Certified Solution Partners are trained and certified to provide professional services including consultations, user training and technical support for Elliott Mobile Solutions™ identification and accountability systems. To learn more, contact Josh Dunbar, Mobile Solutions Representative 1-888-345-8511 jdunbar(at)elliottdata(dot)com or visit http://www.elliottmobilesolutions.com to find a Certified Mobile Solutions™ Provider near you.
About Grabba, Inc.
Grabba is the world's leading manufacturer of data collection attachments for commercially available smartphones. Grabba technologies include barcode scanning, fingerprint reading, MRZ (passport) reading, contact and contactless smartcard reading, RFID reading, magnetic stripe reading and signature capture. These technologies can be provided alone, or in combinations of up to six in the one small, light-weight enclosure. New data collection technologies are regularly added.
Grabba units work in Android, Apple (iOS), BlackBerry and windows, have application in every vertical market, and are sold in more than 30 countries. For more information contact Laurie Pane, VP, Grabba, Inc. at laurie(dot)pane(at)grabba(dot)com and Moshe Meppen, CEO Meta Dolce, Inc. at mmeppen(at)metadolce(dot)com.