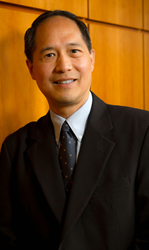 "For the past 16 years, I have been particularly focused on helping LGBT couples become parents," states Dr. Pang.
Boston, MA (PRWEB) August 27, 2014
Since 1993 Dr. Samuel Pang has been treating lesbian couples, and since 1998 he has been treating gay male couples seeking fertility assistance to have a family. In the past few years he has also treated transgender people with techniques used to help infertile heterosexual couples conceive and have children. In an interview by A. Evan Eyler, MD, MPH, Dr. Samuel Pang shared his experience and insights about fertility treatment options for LGBT couples, which appeared in LGBT Health, July 2014.
Dr. Pang comments, "For the past 16 years, I have been particularly focused on helping LGBT couples become parents and will continue to be involved in providing fertility services which allow all people wanting to have biological children to be able to do so."
For lesbian or bisexual women with female partners, the easiest process for conception is insemination with donor sperm, which can be done at home or with the assistance of a reproductive endocrinologist. If they have trouble getting pregnant, a consultation and testing for causes of infertility should be done, and perhaps in-vitro fertilization (IVF) may be needed to conceive, just like with a heterosexual couple. Female couples may also choose to do IVF even if they do not have infertility, with one partner providing the eggs and the other partner carrying the pregnancy. This enables both of them to be intimately involved in the conception and birth of their child. It is not uncommon for a couple to return after the birth of their first child and reverse roles, so that the woman who provided the eggs for their first IVF cycle now carries the pregnancy, and her partner who carried the pregnancy for their first IVF cycle now provides the eggs for their second IVF cycle. This enables each partner to have a genetic child. Dr. Pang has dubbed this "reciprocal" IVF.
Dr. Pang was one of the first doctors in the U.S. to help gay male couples have biological children, which is also an option for bisexual men with male partners. This is the best option for male couples to have genetically related children and involves IVF with donor eggs and a gestational carrier. There are various options for egg donors, who may be known to the couple or not. Gestational surrogates, women who will carry the pregnancy to birth for another person, also may be known to the couple, such as a family member or friend, or recruited through a surrogacy agency.
For transgender people who want to have genetic children and are having gender-affirming surgery, egg or sperm cryopreservation prior to transition enables their reproductive material to be preserved for future use. Prior to beginning the use of male hormones for transitioning, transgender men may undergo a process of ovarian stimulation with hormones, followed by retrieval and freezing of eggs with "vitrification," which flash freezes the eggs to preserve them for future family building. For transgender women, they may cryopreserve sperm at a sperm bank for later use. These are options for trangender adults before they transition.
Opportunities for fertility preservation for transgender youth are on the horizon, particularly children who may not have completed pubertal development in their natal sex. It is the parents of these children who are beginning to inquire about fertility preservation options for their transgender children.
It is quite impressive how much has transpired, both technically and politically, in only a couple of decades. Education is key so more people, parents and aspiring grandparents are aware of what is already available today, and this needs to occur within the support community, including the LGBT organizations and primary care physicians and other clinicians who work with transgender people so they can explain the options.
To learn more about LGBT fertility options, refer to http://www.gayivf.com and to reach Dr. Pang call 800.858.4832.
About RSC New England
RSC New England, a comprehensive reproductive medicine specialty practice, helps lesbian couples become parents through donor sperm insemination and reciprocal IVF. In 1998, RSC Medical Director Samuel Pang, MD expanded the center's services as the first Reproductive Endocrinology and Infertility specialist enabling a gay male couple to have genetically related children through IVF (in vitro fertilization) using donor eggs and a gestational surrogate. RSC also now provides fertility preservation consultations and services for transgender men and women.