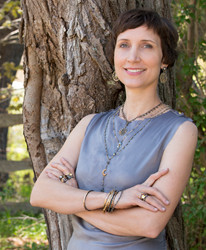 Reinvented treasures transformed into wearable art.
Boston, MA (PRWEB) August 26, 2014
Jenne Rayburn is thrilled to help Made In Fort Point Gallery celebrate its Opening at 315 on A Street in Boston's Fort Point Channel Innovation District. Rayburn's unique handcrafted jewelry will be on display along with one-of-a-kind works of art created by Fort Point Artists who live and work in Boston. Join local artists and Innovation District residents at the Gallery opening Wednesday, August 27th from 5-7 p.m. The Grand Opening is October 2nd from 5-7 p.m.
A member artist of the Fort Point Arts Community, Rayburn will be showcasing her handcrafted jewelry collections as well as one-of-a-kind Recycled Plastic Statement Necklaces. Each piece of Jenne Rayburn jewelry has a story as unique as its design. "My work is inspired by unique and rare objects I have collected from around the world," notes Rayburn of her jewelry designs. "I reinvent these treasures into wearable art." The mission of the Made In Fort Point Gallery is to showcase imaginative jewelry design, original works of art and local handcrafts, made by Boston artists and designers.
For women who see themselves as unconventional, yet have a sense of tradition and who are imaginative and a little rebellious, but still classic and timeless, Rayburn makes jewelry just for them. "For me the creative process is about making connections; reconsidering, remixing and reimagining what is possible," says Rayburn about her process. "Reusing vintage, antique or unusual components, sourcing ethically conscious metals and stones, and tapping local resources for rare and limited edition material, my collections are a great fit for the Made In Fort Point audience."
Find stunning modern necklaces, earrings, bracelets and brooches at the new Made In Fort Point Gallery, also featuring paintings, prints, photography, ceramics, furniture, lighting, artists' books, wearables, greeting cards, and more, all made by local artists.
Made In Fort Point
315 A Street
Boston, MA 02210
617-423-1100
Monday-Friday 11 a.m.-6 p.m.
Saturday and Sundays noon-4 p.m.
About: Jenne Rayburn is a Boston-based jewelry and textile artist who also studied interior design and architecture, and her work explores the convergence of architecture, design, technique and identity. Balancing the demands of a career and a growing family, Jenne is a mother, wife and daughter who designs for her and all the women in her life who want to feel uniquely beautiful and powerful. It is her hope that the wearers of her pieces will find joy in a delightful artistic statement, and also something that enhances their individuality and confidence. Her work is suitable for wedding jewelry and is carried in local galleries and online. Please visit http://www.jennerayburn.com for Jenne Rayburn's online flagship store. For wholesale information, please visit jennerayburn.com/wholesale.com.