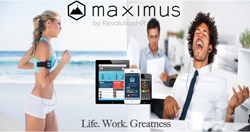 Old performance management paradigms are killing employee performance and engagement. We want to be a part of the solution for companies looking to engage and develop their workforce fully.
Dallas, TX (PRWEB) August 26, 2014
HR technology company, RevolutionHR makes history and paves the way for future innovative technologies focused on changing the game for the working professionals and business leaders using the latest technology has to offer for employee growth and development.
With an admittedly lofty goal of $55,000, RevolutionHR launched their crowdfunding campaign for MaximusLife on the Indiegogo platform in June of 2014. Their product, MaximusLife is a workplace engagement and career wellness software focused on hardware and wearable tech. RevolutionHR is proud to announce they achieved 100% of their funding goal that concluding August 19th, 2014.
MaximusLife boasts the ability to completely revamp the industries dinosaur-like process of performance management, which is based in what RevolutionHR calls "old-school administrative focused processes". MaximusLife encourages companies to focus on the "whole person, whole life" when it comes to employee engagement and performance at work. This whole person workplace engagement shift is something Millenials which now account for nearly 75% of the workforce are craving.
RevolutionHR CEO says, "We are the first to focus on harnessing the power of the "whole" individual behind the job. Old performance management paradigms are killing employee performance and engagement. We want to be a part of the solution for companies looking to engage and develop their workforce fully. If people programs continue to look and feel like an administrative process they will never engage the people in the jobs. We are offering a new experience not a new administrative process, and we are beyond excited about the early traction we have already received in pre-orders."
If revamping workplace dinosaurs aren't exciting enough for Millennials, the platform also integrates seamlessly with existing wearable technology and popular fitness and lifestyle tracker hardware. Their first launch partner, Misfit Wearables Fitness Tracker, is sold in Best Buy and Apple stores. Other launch partners include companies like Corpus Optima and Fathom Training who both have segments focused on coaching and training for employees.
The proprietary design of the platform gives business leaders and executives a way to engage employees by focusing on more than just recognition or annual appraisals. The platform is focusing on the career growth and development that so many employees are craving, and doing it using mobile technology. As a twist on the typical siloed approach, MaximusLife provides both service to individual users focused on career development and wellness, as well as options for organizations that are looking for creative ways to empower, retain and grow their employees.
"Engaging your employees should include the whole person including what employees aspire to achieve in life as individuals, says RevolutionHR CEO, Brady Bruner. Seventy-eight plus percent of business leaders now know the solution to keeping employees engaged and productive can't be accomplished with the current appraisal review, education session or development program. We can clearly see the impact of this in the Gallup reports showing 87% disengaged globally. It's clearly time for change and focusing on the employee helps us all. Our focus with MaximusLife is to provide a way to put all the facts and research about human motivation that we already know into an interactive employee focused platform," continues RevolutionHR CEO.
RevolutionHR provides companies with products and services to help their employees grow their careers more effectively -- improving employee engagement, reducing turnover and increasing job satisfaction. Its latest product, MaximusLife, is a new employee-engagement platform that uses an innovative reward system to build a bridge between a company and its employees. Visually exciting, the Maximus Employee Engagement Platform – accessible online or via mobile – brings management of corporate and team goals, individual career growth and wellness initiatives into one easy-to-use system.