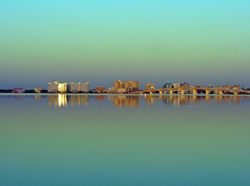 Best Places to Live in Florida
Sarasota, Florida (PRWEB) August 27, 2014
On October 16th, the new 880,000 square foot Mall at University Town Center will open for business near the Best Beach in America. Some of the most well known names in retail will be at this shopping destination! The three anchor stores, Saks, Macy's and Dillards will be sure to draw divas and shoppers alike while foodies with a sweet tooth looking for Sarasota best restaurants will flock to places like the Cheesecake Factory. Other stores that will open include Crate and Barrel, Apple, and Michael Kors. If folks can't find at The Mall at University Town Center, it probably doesn't exist.
WALK THIS WAY
But Sarasota is so much more than a shopping town. It is well known for its barrier-island beaches and its vibrant downtown. Another reason Sarasota is constantly named one of the best places to live in Florida is its walkability. Great cities are often characterized by their proximity to life's necessities. Several Sarasota areas have restaurants, entertainment and shopping just a few blocks away, making them some of Florida's best urban neighborhoods. Increasingly walkability is becoming more important as a factor for people looking at Sarasota homes for sale and their residential property purchase decisions. Laurel Park is one of Sarasota's areas best known for its walkability. The neighborhood is filled with single-family homes, duplexes and small apartment buildings, with many dating back to the 1920s, in styles such as bungalow, Mission revival, Colonial revival and Mediterranean revival.
CULTURAL COAST OF ENTERTAINMENT
Sarasota is also home to a thriving artist and cultural community. It is called Florida's "Cultural Coast" for good reason. Cultural offerings include an opera company, two symphonies, a ballet, a performing arts hall to rival Broadway, sophisticated galleries, antique shops, artists' studios and fine crafts boutiques. Sarasota's rich cultural history dates back to its roots with the John and Mable Ringling Museum of Art, just a short distance away from the downtown area. Because of its proximity to the Ringling College of Art and Design, Indian Beach Sapphire Shores is one of the best places to live in Florida. This bayfront neighborhood in the shadow of the historic Ringling estate is filled with historic homes dating to the 1920s, along with modern mansions and more moderately priced homes.
Those who want to see inspiring works of art, don't have to head to the bay. Downtown's State Street is home to the State Street of the Arts Gallery where visitors can view museum quality arts created by local artists. Another area, Gillespie Park is not only up and coming, but it's also home to a lot of art and artists. The Westcoast Black Theatre Troupe is located there too. Its mission is to produce shows that promote and celebrate the African-American experience, attract diverse audiences, support and develop African-American artists, and build the self-esteem of African-American youth.
SPORTING PLAYGROUND
Sarasota is a great place for sports and sports fans. Some of the best sporting venues include our many Sarasota County Parks, Ed Smith Stadium, Sarasota Polo Grounds and Siesta Key Beach. Each year during February, March and early April, Major League Baseball moves to warm weather and Sarasota enjoys a central location to all the activity. The Baltimore Orioles play in town. Other teams including the New York Yankees and Boston Red Sox are within a 90-minute drive. For those who like participating in sporting events and not just watching them, Lakewood Ranch could be the place to live. This sprawling planned community east of Interstate 75 features recreation ranging from playgrounds to pools to polo, with half of the 8,500-acre community set aside for open space and recreation areas, including miles of hiking trails at one of Florida's best urban neighborhood.
EAT YOUR HEART OUT
The Sarasota area has no shortage of independent dining establishments, cafes, bistros and bars. No matter what the craving may be - American, Chinese French, Italian, Japanese, Latin, Mexican, Sushi or Thai – Sarasota restaurants can satisfy it. Some of the best Sarasota restaurants consist of elegant restaurants for fine dining, waterfront restaurants with spectacular views, and romantic restaurants for special occasions and inexpensive places for the whole family. There are also hot spots where folks can mingle with the in crowd and some great seafood restaurants where folks can enjoy local Florida catches. Several neighborhoods in Sarasota are home to successful restaurants. In fact, its hard finding a neighborhood that didn't have at least a handful of delicious, popular eateries.
Sarasota, Florida frequently tops the list of best places to live in Florida. From casual eateries on the beach, to fine dining downtown, the list of the best sarasota restaurants is a long one. And with its thriving cultural community, shopping, thriving neighborhoods and sporting events, Sarasota has all of the features of a big city, while maintaining the feel of a small town.
About Real Estate Scorecard:
Real Estate Scorecard writes unbiased real estate reviews providing in-depth information about popular gated communities in Florida, Georgia, North Carolina, South Carolina and Tennessee, all in an effort to help people discover where to retire in the Southeast.
Website: http://realestatescorecard.com
photo credit: andrea mom via photopin cc