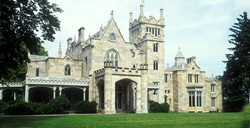 WHITE PLAINS, N.Y. (PRWEB) August 27, 2014
The growth and investment in Westchester County's tourism industry continues to thrive as anniversaries mark the popularity and longevity of attractions in the area.
"With a handful of attractions celebrating their history here in Westchester – including Cross County Shopping Center, ArtsWestchester and Tarrytown House Estate on the Hudson – it's a great time to visit and explore the county's many iconic attractions," said County Executive Robert P. Astorino.
The following are some of the anniversaries being celebrated in Westchester County this year:
176 Years
Lyndhurst, one of Westchester County's most historical landmarks and Alexander Jackson Davis's 1838 Gothic Revival masterpiece, is celebrating 176 years. Tourists marvel at the same dramatic views of the Hudson River once enjoyed by railroad baron Jay Gould. Lyndhurst is also renowned for its outstanding collections, rose garden and beautiful landscape. Lyndhurst is open for tours Friday, Saturday and Sunday 10:00am to 4:00pm, and Monday 12:00pm to 4:00pm. The grounds are open daily from 9:00am to 5:00pm. For more information about its upcoming programs, visit http://www.lyndhurst.org/programs-2/programs-lyndhurst/ or call (914) 631-4481.
60 Years
As Cross County Shopping Center commemorates its 60th anniversary, events are scheduled for the autumn season, including its first Fall Flicks outdoor movie series. Guests will enjoy a different movie theme along with pre-show entertainment, food samplings, prizes and much more. Visitors are invited to bring their own chairs and blankets on the Green for the movies, which are scheduled to be shown on the following dates: Saturday, September 20; Friday, September 26; Friday, October 3 and Friday, October 10. For more information, visit http://www.crosscountycenter.com.
The art in Westchester is brimming with celebrations as the Katonah Museum of Art marks its 60th anniversary. To commemorate this milestone, the museum has a complete list of upcoming art exhibits for visitors to enjoy. For more information, visit http://www.katonahmuseum.org/ or call (914) 232-9555. Additionally, in recognition of its 40th anniversary year, the Neuberger Museum of Art at Purchase College has organized When Modern Was Contemporary: The Roy R. Neuberger Collection, an exhibition of some of the finest works in the Roy R. Neuberger Collection – works by Milton Avery, Romare Bearden, Alexander Calder, Arthur Dove, Helen Frankenthaler, Edward Hopper, Georgia O'Keeffe, Jackson Pollock, Mark Rothko, David Smith, and others. When Modern Was Contemporary, which also includes materials related to Roy R. Neuberger's life and work as a collector, donor and arts advocate, will be on view through December 25. For more information, visit http://www.neuberger.org or call (914) 251-6100.
50 Years
Tarrytown House Estate & Conference Center is celebrating 50 years as the nation's first conference center. In sharing the 50th anniversary with guests, the Estate is offering promotions through the end of the year. The Remembering 1964 package offers guests an opportunity to revisit the food that made the era so popular, with an overnight Deluxe or King House guest room, breakfast for two in the Winter Palace and a 1964 dining experience in the on location restaurant, Cellar 49. This package starts at $269 (excludes alcoholic beverages). There is also a package designed for business meetings called the 50th Anniversary CMP Dinner Menu, a specialized dinner menu available for purchase for just $50 for conference attendees utilizing the Complete Meeting Package. The menu can be used for a minimum of 20 attendees for a 90-minute event.
The extravagant 1964 Package includes a two-night stay in a King Mansion balcony or sun deck room, customized amenity upon arrival, breakfast for two in the Winter Palace, and a customized dining experience through private use of Cellar 49's Wine Vault. This private meal paired with Cellar 49's finest wines, will include a five-course dinner menu tailored to your liking after consultation with the Cellar 49 Chef. Cellar 49, which served as Mary Duke Biddle's cellar during her residence, is located on the lower floor of the historic Biddle Mansion and offers a variety of dishes that highlight a modern twist on classic tavern fare. This memorable experience is priced at $1,964 to commemorate the property's first year as a conference center. For more information, call (914) 591-8200 or visit http://www.tarrytownhouseestate.com.
45 Years
Clearwater Hudson River Sloop, constructed in 1969 is celebrating 45 years. In 1966, folk music legend and environmental activist Pete Seeger, in despair over the pollution of his beloved Hudson River, announced plans to "build a boat to save the river." At the time, the Hudson was rank with raw sewage, toxic chemicals and oil pollution; fish had disappeared over many miles of its length. Seeger believed a majestic replica of the sloops that sailed the Hudson in the 18th and 19th centuries would bring people to the river, where they could experience its beauty and be moved to preserve it. Inspired by that vision, the 106-feet-long sloop Clearwater was built and launched in 1969. The sloop was among the first vessels in the U.S. to conduct science-based environmental education aboard a sailing ship, creating the template for onboard education programs conducted around the world today. Each summer, Clearwater re-connects Hudson Valley residents with their cultural heritage and traditions by bringing them down to the river for the Great Hudson River Revival, the country's oldest music and environmental festival, held at Croton Point Park; June 21-22, 2014. The organization and its local sloop clubs also sponsor smaller local riverfront festivals throughout the year. The organization's unique approach to public outreach has made the Clearwater a symbol of grassroots action through hands-on learning, music and celebration. For more information, visit http://www.clearwaterfestival.org.
40 Years
And for its 40 years of quality entertainment and fine dining in the county, Westchester Broadway Theatre is celebrating its anniversary with several upcoming shows, including various comedy shows and musical performances like The Wizard of Oz, developed from the ever popular MGM screenplay. This musical contains all the beloved songs including "Over the Rainbow" and runs through September 21. Additionally, all the magic of the fab four returns live with the cast of Beatlemania on September 30. Featuring former members who starred in the Broadway production, the cast recreates the sights and sounds of The Beatles. The Westchester Broadway Theatre is the longest running year-round Equity theatre in the state of New York, with a 40-year history of nearly 200 main-stage productions and nearly 1,000 Monday/Tuesday special events and concerts. Its objective with this world-class venue is to always provide its audiences – which come from far and wide – with the highest production values and most memorable entertainment/dining experiences. For more information about upcoming shows, visit http://www.broadwaytheatre.com or call (914) 592-2222.
For more of the latest events and happenings in Westchester, log onto http://www.visitwestchesterny.com, like us on Facebook (facebook.com/westchestercountytourism), follow us on Twitter @westchestertour or call 1-800-833-9282. To view the Westchester County Destination Guide, please visit http://digital-editions.mediatwo.com/westchester-destination.
About Westchester County Tourism & Film
Tourism & Film is Westchester County's official destination marketing organization. Its mission is to generate economic benefits by enhancing the image and promoting Westchester County as a premier business and leisure destination in the Hudson Valley region. The Tourism & Film Office in Westchester County is a division within County Executive Robert P. Astorino's Office of Economic Development.