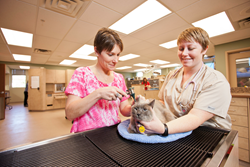 Oakdale, MN (PRWEB) September 01, 2014
In honor of National Take Your Cat to the Vet Day, which took place on Aug. 22, Animal Emergency & Referral Center of Minnesota (AERC) is offering a few reasons why pet owners should make veterinarian visits a priority for their cats.
Many people don't take their cat to the vet because "there's nothing wrong" or "it's too much of a hassle," but they wouldn't decide not to take their kid to dentist because he or she shows no signs of a cavity. The same goes for pets. Just like people want their loved ones to be healthy, they also want their pets to be healthy.
Whether pet owners have an indoor or outdoor cat, or a young or old cat, it's important to regularly visit the veterinarian. Here are just a few reasons why:
1. Cats are known for putting on a brave face, so owners might not be able to tell if their cat is ill or in pain. Physical exams allow the veterinarian detect any problems from an injury to early warning signs for health problems, such as a heart murmur, diabetes, dental disease or hyperthyroidism.
2. Veterinarians can administer vaccinations that prevent death from diseases like rabies, distemper or leukemia. Pet owners and their vets can determine a vaccine plan for their cat's lifestyle.
3. Veterinarians should become familiar with the cat's weight, coat condition, and personality. If the veterinarian sees the cat regularly, he or she will learn the "normal" attributes of the cat. This way, the veterinarian will know exactly what pet owners mean when they call in a panic saying, "Fluffy just isn't acting like himself!"
Getting cats to the veterinarian is no doubt important, but it can sometimes be a hassle to get them there. AERC has tips on how to get cats to go to the vet without putting up a fight.
1. Practice regular care with the cat at home, including brushing, nail trimming, and brushing teeth. Also, gently touch the cat's face, ears, feet, and tail so that he or she will be used to similar procedures during an exam.
2. Make sure the carrier fits the cat right. When a kitten gets older, pet owners may have to invest in a bigger, sturdier carrier.
3. Get the cat used to the carrier. A few days before the appointment, leave the carrier out with the door open. Place a treat inside. Do this every day leading up to the visit. Also, put a blanket or towel with the cat's scent or the owner's scent in the carrier. A favorite toy in the carrier will also help comfort the cat.
4. Praise the cat while he or she is in the carrier vocally. When arriving at the vet's office, offer more praise, treats, and cuddles. This will reassure the cat that he or she is safe.
5. If the cat panics around curious canines in the waiting room, consider visiting a cat-only veterinarian clinic or ask to be placed in an exam room upon arrival.
Call a veterinarian today to set up an appointment for a cat, then try out some of these tips. For more information, contact AERC by calling the Oakdale location at (651) 501-3766 or the St. Paul location at (651) 293-1800 or visit their website at http://aercmn.com/.
About the Company:
Animal Emergency & Referral Center of Minnesota (AERC) started out with one clinic, one veterinarian, and one technician. Today, they employ a wide variety of doctors and health care team members – all specially trained in emergency and critical care – in addition to a growing referral practice for when pets just aren't feeling like themselves. For more information, please visit their website at http://aercmn.com.