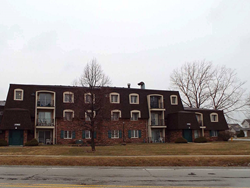 Chicago, IL (PRWEB) August 26, 2014
Mortgage loans are not pawns and homeownership is not a game, yet during the housing bubble, mortgage-backed securities were sold and traded like baseball cards in a 1930's schoolyard. American Homeowner Preservation ("AHP") works on a daily basis with borrowers which have grown skeptical of new lenders. The frequent transfers and and the proliferation of mortgage relief scams rightly have homeowners on guard.
AHP does not treat the mortgages it purchases like baseball cards and realizes there are people and families behind these documents. In working with homeowners like Linda, AHP hopes to gain back the trust of homeowners nationwide by proving there is a company out there really helping people.Linda recently had her mortgage purchased by AHP, and like many others, she was skeptical when she was first contacted. "I get it with mortgages that they're bought and sold all the time," Linda said. "I just think it's the lack of communication when they're bought and sold that make people skeptical."
Linda was 25-years-old when she purchased her Illinois condo ten years ago. Linda took out an adjustable-rate mortgage because it was the only option presented to her. She said she did not know any better and worked with a horrible lender. During the first three years of her loan, Linda managed her payments without any problems. After the third year, her payments shot up and Linda fell behind.
The original lender eventually sold her loan and Linda received a mortgage modification with her new lender that put her back on track. Linda relocated to a new state several years ago and her mother has been living in the condo ever since. Linda remained responsible for the mortgage and, when she was contacted by AHP, she initially thought the terms of her modification had been altered.
She quickly picked up the phone and was able to speak directly with AHP's Senior Asset Manager Jake Laffey, who cleared things up. Linda was in fact able to keep the terms of previous loan modification and, while she found comfort working with Laffey, she still found it hard to transition lenders.
"Had I gotten a letter from my lender saying 'hey, your loan is being sold to this company' then it wouldn't have been such a shock," Linda said. "But I really just a got a letter in the mail one day and I was like, 'who are these people?"
Linda said the threat of scams to homeowners is very real and that she has received suspicious phone calls from India she believes were meant to dupe her. According to Linda, these realistic threats and the whirlwind process of mortgage trading forces a certain mindset upon borrowers.
"You're used to dealing with one lender; these are people you've called and you've talked to," said Linda. "You almost feel powerless because we don't know what's going on, and I wouldn't be in this predicament if I didn't need a modification, so I appreciate that aspect of it, but at the same time, you're like, 'what's really going on?"
Given all the scams and different lenders who are unwilling to work with borrows, Linda finds comfort in knowing that there are companies like AHP that really want to help struggling homeowners.
"Life happens to everyone so to know that there's a company out there who is attempting to help get you right side up, help get you in a better place, help get you to a good spot is good to know," said Linda. "People don't want to be homeless."
American Homeowner Preservation empowers accredited investors to purchase equity in pools of distressed mortgages to earn returns of 9-12% AHP then offers sustainable solutions to keep families in their homes. For further information or inquiries please visit https://ahpinvest.com or call 800-555-1055.