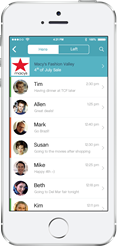 "The possibilities for use cases are endless, making this new SDK really exciting," said Farid Bakir, Apsima's VP of Business Development.
San Diego, CA (PRWEB) August 27, 2014
Apsima today officially announced their latest offering, a social Presence SDK for app developers to add proximity based social features to any mobile development.
"So far, iBeacon technology has been chiefly used for targeted marketing," said Farid Bakir, Apsima's VP of Business Development. "Our social Presence SDK was built to extend its use beyond primarily business to consumer interaction by allowing mobile users to interact with one another based on their physical proximity. After all, users want the same abilities; to be provided with context based features based on their surroundings."
The social Presence SDK can be utilized by developers to create new apps or can be integrated into any existing development. Users will have the ability to opt in or out as well as to set their desired visibility, such as only to those connected through their social networks.
"The possibilities for use cases are endless, making this new SDK really exciting," said Bakir. "A corporation for employees to know who else is in the office and interact in real time, posting notes for others around you based on location, a festival to see other friends who are also in attendance and where they are located within, a mall to notify you when a good friend is also shopping so you can meet them for lunch…these are just a handful of ideas among a virtually limitless pool of potentialities."
When building the Presence SDK, Apsima sought to account for a vast array of implementations into one streamlined package.
"The concept is simple enough, allow mobile users to know when others are also nearby, but in actuality the implementation is quite complex. There are many challenges to account for when implementing this type of feature. We have worked hard to encapsulate the technology into one single black box that will allow iBeacon app developers to easily implement our SDK for any use case right away," said Karim Alami, Apsima's Chief Technology Officer.
Not only do they provide the SDK, but have gone even further by also creating a UI, making integration even easier for a more rapid deployment.
"We are proud of our platform, not just in its robust potentialities, but in its constant evolution. We aim to stay continually aware of user expectations and market trends, pushing innovations and evolving our platform with time. We believe this new SDK to be another ubiquitous building block for iBeacon developments to come," said Bakir.
Apsima's social Presence SDK is currently in beta, available to anyone utilizing their iBeacon platform.
About Apsima LLC: Apsima was founded in 2013 by a team of enthusiastic software developers who set out to create the most comprehensive proximity awareness platform to date, that would provide connectivity, messaging, and mobile payment agnostically and seamlessly, with the flexibility to be adaptable to a wide array of businesses. For more information about Apsima, visit http://www.apsima.com.