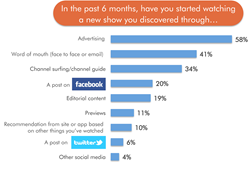 Facebook ranks behind advertising, word of mouth, and even channel surfing as a driver of show discovery--and Twitter ranks next to last.
Boston, MA (PRWEB) August 28, 2014
Much has been made of the potential influence of social media—especially Facebook and Twitter—on TV show viewership and ratings. However, in spite of widespread use (and near ubiquity among 18-34 year olds), social media doesn't show up as a top driver of TV show discovery and engagement.
Some key findings from "Figuring out Fans", a new study from Hub Entertainment Research on the role of social media when it comes to consumers' TV decisions:

Social media ranks far behind other sources when it comes to show discovery. Only 24% say that in the past 6 months, they've discovered a show through something they saw on Facebook or Twitter—vs. 58% who found a new show through advertising, 41% via word of mouth, and 34% through old-fashioned channel surfing.
Most say social media plays little or no role when it comes to finding new shows to watch. On a scale of 0-10, 62% give low ratings (0-5) to social media's role in discovery. And 27% ranked it at zero - saying it plays no role whatsoever.
Facebook and Twitter are used much more often to listen than to advocate. 75% of Facebook users and 65% of Twitter users say they read much more often than post. In fact, 53% of Twitter users say they've tweeted no more than once or twice during the ENTIRE TIME they've had an account.
The research also uncovered key differences between Facebook and Twitter as tools for TV marketers:
Facebook has far greater reach, both overall and as a tool to communicate about TV content. 76% of social media consumers use Facebook daily, and 39% have used Facebook in some way related to a favorite TV show—compared to just 47% and 17% for Twitter.
Twitter is more associated with show engagement. 67% who engage in Twitter activities related to a show say that activity makes them care more about the show. Only 58% say the same about TV-related activities on Facebook.
"The good news regarding social media is that Facebook activity related to TV shows is fairly common, and that Twitter activity related to TV shows leads to greater engagement," said Peter Fondulas, Principal at Hub. "But very few do either one, and even among those who do the increase in engagement is not dramatic. So the net impact on a show's live audience barely registers."
"Social media represents a valuable tool when it comes to promoting TV content—but it's just that, one tool," added Hub's Jon Giegengack. "Word of mouth has always been an effective way to promote TV shows, but social media doesn't appear to automatically amplify the advocacy of TV shows in particular. Most of the influence on which shows consumers choose appears to come from other sources."
The 2014 Figuring Out Fans study was conducted in July 2014 among 1331 TV consumers between 16 and 64, who have broadband and use social media at least once a month.
Excerpts from both What's TV Worth studies, along with information on how to subscribe to Hub's syndicated research, are available from Hub's website, http://www.hubresearchllc.com.