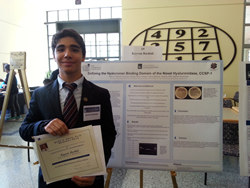 Hunting Valley, Ohio (PRWEB) August 27, 2014
Budding Biomedical Scientists
This summer, five students from Cleveland's University School participated in the Scientific Enrichment and Opportunity Program at Case Western Reserve University's School of Medicine.
The rigorous eight-week program provides students with an unparalleled professional experience in the sciences and brings them in contact with the School of Medicine faculty and students for both academic and career mentoring.
Working alongside leading biomedical scientists, rising sophomores Omer Ashruf, Sharan Bhatia, Rohan Garg, Graham Lane, and Keyvon Rashidi conducted research on the role of antibodies, cancer and tumor suppressing treatments, and malaria immunity and treatment.
At the conclusion of the program, Keyvon Rashidi was awarded the Mark A. Smith, Ph.D Memorial prize for Outstanding Scientific Achievement.
The students are Anderson Scholar Candidates in Science at University School. The program enables students with a passion for medicine, physics, outdoor biology, and other sciences to pursue these areas with rigor and in greater depth. Students learn the research skills necessary to become good scientists. They explore the world of science through advanced coursework, research projects, and internships culminating in designing and implementing an individualized research project.
Founded in 1890, University School is an independent day school, educating boys in kindergarten through grade 12. The school's mission is to develop promising and motivated boys into accomplished and independent young men. University School has two suburban campuses: the Shaker Heights Campus has 462 students in kindergarten through grade 8; the Hunting Valley Campus is home to 420 students in grades 9-12. Visit http://www.us.edu for more information.