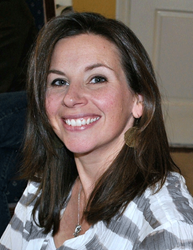 I am honored, elated, excited, willing, able and ready to serve on the Board of Directors for AWRA. -- Wayne S. Wright
Middleburg, VA (PRWEB) September 02, 2014
The American Water Resources Association (AWRA), the premier non-governmental organization dedicated to the advancement of multidisciplinary water resources management and research, is pleased to announce that Martha Corrozi Narvaez was voted president-elect by members during a recent national election. AWRA members also chose Lisa Beutler and Wayne S. Wright to sit on the organization's Board of Directors.
"I would like to welcome Martha as the incoming president-elect for AWRA, and Lisa and Wayne to the AWRA Board," said John C. Tracy, current AWRA president-elect, "and thank all of them for their willingness to help lead our organization. I look forward to working with them in the coming year, and I am glad they are willing to offer their talents, time and effort to help advance AWRA's mission as we start our next 50 years in serving the water resources community."
Narvaez, Wright and Beutler will assume their new offices on January 1, 2015. At that time, Tracy will become AWRA president and current president C. Mark Dunning will become immediate past-president.
"I am both excited and honored to be elected AWRA's President-elect," Narvaez replied when asked about her reaction to the election results. "AWRA plays such an important role in the water resources community and I am honored to part of the leadership of such a dynamic group of people working to advance the science and management as well as increase our knowledge of our water resources."
"Many thanks to all the AWRA members for this opportunity," responded Beutler, "Given global climate change, aging infrastructure and a divisive political environment, AWRA's contributions to the Water Resources profession during the next 3 years will be vital. I'm both excited and honored to serve."
Wright summed up his reaction this way, "My reaction was exuberant! I am honored, elated, excited, willing, able and ready to serve on the Board of Directors for AWRA. AWRA has helped me so much over my career – I look forward to helping the awesome membership of AWRA address the water resource issues facing us now and into the future."
The following officers and directors will begin their terms of service on January 1, 2015:
President – John C. Tracy, University of Idaho, Boise, ID
President-Elect – Martha Corrozi Narvaez, University of Delaware
Director – Lisa Beutler, MWH Global, Inc., Sacramento, California
Director – Wayne S. Wright, GeoEngineers, Inc., Seattle, Washington
Continuing their remaining terms as AWRA Board members for 2015 are:
Past-President – C. Mark Dunning, CDM Smith, Fairfax, VA
Secretary-Treasurer – David R. Watt, St. Johns River Water Management District, Palatka, FL
Director – Rafael E. Frias III, Black & Veatch, Sunrise, FL
Director – Noel Gollehon, USDA-NRCS, Beltsville, MD
Director –Brenda O. Bateman, Oregon Water Resources Department, Salem, OR
Director – L. Donald Duke, Florida Gulf Coast University, Ft. Myers, FL
For more information on AWRA's Officers and Board of Directors, including bios., visit the AWRA website.
About AWRA
Since 1964, American Water Resources Association has been dedicated to the advancement of water resources management, research and education, as well as a balanced approach toward solving water resources challenges. AWRA's membership is comprised of professionals who share a common interest in working and learning across a wide range of disciplines focused on water resources policy, practice and education. Visit AWRA.