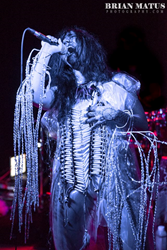 New York, New York (PRWEB) August 27, 2014
Art-Progressive rock ensemble Vajra confirmed that they are one of the headliners at this year's Evolvefest, which takes place this Labor Day weekend at Fellowship Farm in Pottstown, PA. Vajra will play the Main Stage at 6:30 p.m.
Evolvefest is the East Coast's #1 Transformational Festival. It is a visionary community of bold souls, kind minds and artistic mystics. Evolvefest's mission is to inspire individuals and communities to thrive. Through Transformational Music, Yoga, Education and Art, Evolvefest strengthens community bonds and creates loving space for people to co-exist, co-create, and share wisdom. Evolvefest is built on the foundations of Ahimsa (non-harm) and Satyagraha (insistence upon truth).
Vajra's blend of dark, melodic, progressive rock and Eastern Indian fusion is gaining attention since the release of their debut album 'Pleroma'.
The band is completing a round of Summer tour dates, and will announce their Fall tour dates this week.
For more about Vajra and for ticket information, visit their website at http://www.thevajratemple.com.